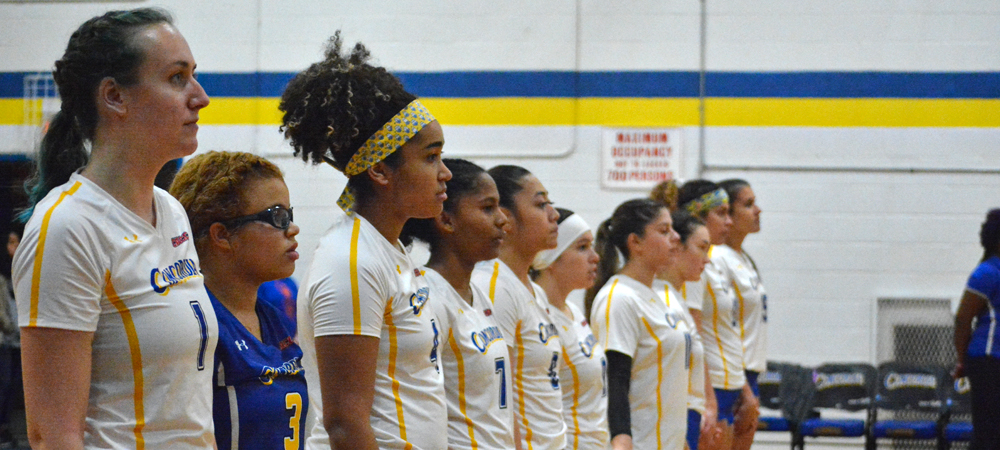 BRONXVILLE, N.Y. – The Concordia College New York women's volleyball team wraps up the 2019 regular season on Saturday, Nov. 16 with an 11 a.m. Central Atlantic Collegiate Conference (CACC) contest at Goldey-Beacom College.
Match Information: Goldey-Beacom
Date: Saturday, November 16, 2019 | 11 a.m.
Location: Wilmington, Del. | Jones Center
All-Time Series: Goldey-Beacom leads 6-4
Last Time: Goldey-Beacom, 3-2 (Sept. 22, 2018)
Media Coverage: Live Stats | Live Video
About the Clippers
Concordia (8-12, 7-11 CACC) enters the regular-season finale after falling at Post University 3-1 on Wednesday, Nov. 13. The Clippers boast a CACC-leading 17.44 digs per set with 11.00 kills on a .140 hitting percentage on top of 1.52 service aces and 1.24 blocks.
Freshman middle blockers Madison Gardner (Oak Hills, Calif.), the reigning CACC Rookie of the Week, sparks the offense behind a team-best 2.57 kills on a .201 clip with 0.66 blocks and 0.35 service aces. Junior libero Nelly Diaz (Land O Lakes, Fla.), the recently-tabbed CACC Defensive Player of the Week, boasts the second-highest dig per set average in the league at 5:15, while sophomore right-side hitter Militza De Hostos (Bayamon, Puerto Rico) dishes out a team-best 4.43 assists.
About the Lightning
Goldey-Beacom (5-22, 2-16 CACC) hosts the Clippers in its season finale after dropping a 3-0 decision on Wednesday, Nov. 13. The Lightning average 10.47 kills on a .139 clip with 14.45 digs, 9.87 assists, 2.16 service aces and 1.10 blocks.
Shayla Boyce paces the Lightning behind a team-high 3.58 kills, ranking third in the conference, getting her feeds from Autumn Spendlove who dishes out 8.87 assists which sits fifth in the league. Neyshilan Roman Conception anchors Goldey-Beacom's defense behind 5.12 digs, third-best rate in the CACC, with Julia Syrdahl contributing a team-leading 0.64 blocks and 0.43 service aces which ranks ninth in the conference.
Up Next
The 2019 CACC Championship begins on Tuesday, Nov. 19 with the quarterfinal round at the higher seed.
For the latest on Concordia athletics, find us on Facebook, Twitter and Instagram.