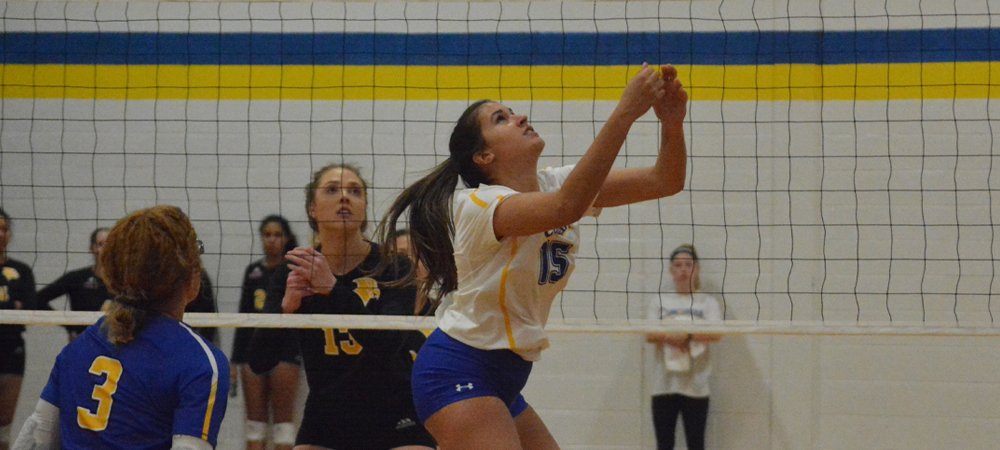 BRONXVILLE, N.Y. – The Concordia College New York women's volleyball team welcomes University of the Sciences to the Meyer Athletic Center on Saturday, Nov. 9 for the Clippers' final home contest of the season with first serve for the Central Atlantic Collegiate Conference (CACC) contest set for 1 p.m.
Match Information: USciences
Date: Saturday, November 9, 2019 | 1 p.m.
Location: Bronxville, N.Y. | Meyer Athletic Center
All-Time Series: USciences leads 9-3
Last Time: USciences, 3-1 (Sept. 25, 2018)
Media Coverage: Live Stats | Live Video
About the Clippers
Concordia (7-11, 6-10 CACC) concludes its home schedule after a 3-0 triumph over North-Division leader Felician University on Tuesday, Nov. 5. The Clippers boast a CACC-leading 17.41 digs per set with 10.73 kills on a .132 hitting percentage on top of 1.48 service aces and 1.20 blocks.
Freshman middle blockers Madison Gardner (Oak Hills, Calif.) sparks the offense behind a team-best 2.44 kills on a .194 clip with 0.69 blocks that ranks 10th in the CACC and 0.38 service aces. Junior libero Nelly Diaz (Land O Lakes, Fla.) boasts the fifth-highest dig per set average in the league at 4.97, while sophomore right-side hitter Militza De Hostos (Bayamon, Puerto Rico) dishes out a team-best 4.37 assists.
About the Devils
USciences (11-16, 8-9 CACC) takes its final trip of the regular season after dropping a 3-0 decision against Georgian Court on Thursday, Nov. 7. The Devils average 10.78 kills on a .138 clip with 14.44 digs, 10.26 assists, 2.07 service aces and 1.24 blocks.
Tori Wright leads a pair of Devils averaging over 3.00 kills with 3.17, fifth-highest rate in the CACC, adding a conference-leading 0.58 service aces while Natalia Velez chips in 3.08 kills which sits eighth in the league. Angeli Roman Medina dishes out a team-best 5.74 assists, with Danielle Taylor anchoring the defense behind 3.09 digs while Kerrigan Clem blocks 0.66 attempts.
Up Next
The volleyball team treks to Post University on Wednesday, Nov. 13 for a 7 p.m. CACC contest.
For the latest on Concordia athletics, find us on Facebook, Twitter and Instagram.