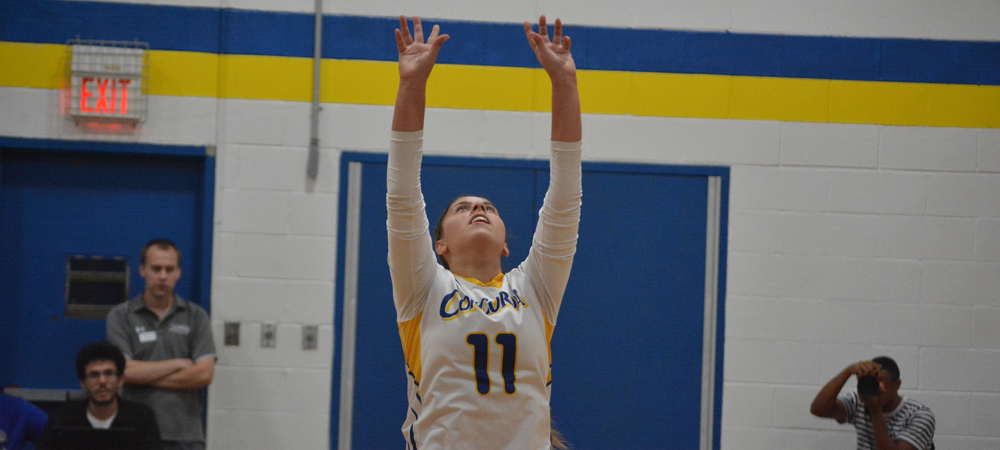 NYACK, N.Y. – Fueled by a balanced attack with three members of the Concordia College New York women's volleyball team ending the Central Atlantic Collegiate Conference (CACC) match with double-digit kills, the Clippers won back-to-back sets after trailing host Nyack College 2-1 overall to take the contest in five sets, 3-2.
NOTES
• Concordia improves to 1-1, 1-1 in CACC action.
• Nyack falls to 2-6, 1-1 in league play.
• The Clippers' 85 digs in the victory sits as the eighth-most in the program record book.
STANDOUT PERFORMERS
• Sophomore right-side hitter Militza De Hostos (Bayamon, Puerto Rico) recorded her second-consecutive double-double with a team-high 23 assists and 16 digs.
• Senior right-side hitter Tatienne Tugade-Sua (Kalihi, Hawaii) recorded her first double-double of the campaign behind 20 digs and 10 kills.
• Freshman middle blocker Madison Gardner (Oak Hills, Calif.) filled the stat sheet with 11 kills, six digs, three total blocks (two solo, one assisted) and two service aces.
• Freshman middle blocker Tanializ Rivera (Carolina, Puerto Rico) tallied a personal-best 12 kills
• Junior libero Nelly Diaz (Land O Lakes, Fla.) paced the defense with 21 digs.
• For Nyack, Kyra Zuhlke recorded 15 kills while Rachel Medin tallied 24 assists and 14 digs.
HOW IT HAPPENED
• Nyack scored 13 of the opening 15 points of the contest to quickly create a double-digit separation at 13-2. The Clippers cut the separation down to eight at 14-6 off a 4-1 run, but the host responded with three-straight points and never allowed the Clippers to get closer than eight for the remainder of the stanza.
• Trailing for most of the second set, Concordia used a late 4-0 rally facing set point to create their own set point at 25-24. Nyack ended the spree on the ensuing play, with the two sides splitting the following six points before back-to-back kills from senior outside hitter Camila Rabassa (Juana Diaz, Puerto Rico) and Gardner evened the overall score.
• After exchanging the opening 10 points of the third frame, Nyack used a 10-3 run to take a 15-8 advantage. The Warriors led by as many as 10 in the set, with Concordia using a late rally to get within seven at 24-17 before the home side scored the set-winning point.
• Trailing 12-9 in set four, Concordia went on a 12-0 run to boast a 21-12 lead. Nyack rallied behind a 10-3 stretch that made it a two-point contest at 24-22 before freshman defensive specialist Lydimar Soto De Los Santos (Trujillo Alto, Puerto Rico) ended the frame with a termination.
• Concordia scored the opening point of the final set and never trailed, overcoming a late 4-1 spree that cut the separation to three at 11-8 with four of the final five points to end the contest.
INSIDE THE BOX SCORE
• Concordia finished the match with 51 kills on a .131 hitting percentage versus 50 on a .170 clip for Nyack
• Concordia held an 85-71 advantage in digs.
• The host served 12 aces, Concordia served six.
• Nyack recorded four solo blocks and 10 assisted for nine total while the Clippers had two solo and eight assisted for six.
UP NEXT
The Clippers host Post University on Thursday, Sept. 26 with first serve slatted for 6 p.m.
For the latest on Concordia athletics, find us on Facebook, Twitter and Instagram.