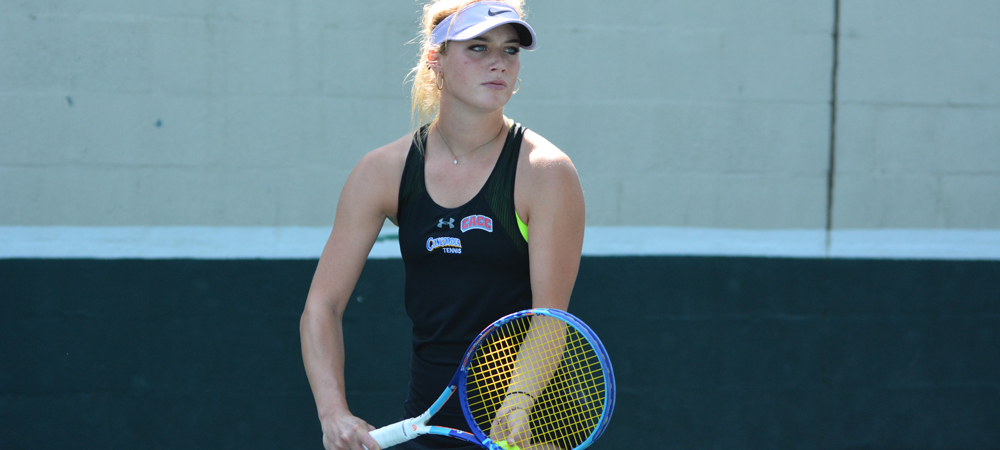 BRONXVILLE, N.Y. – The Concordia College New York women's tennis team hosted Chestnut Hill College in Central Atlantic Collegiate Conference (CACC) play on Saturday morning, winning five singles matches in straight sets after claiming a dramatic doubles point in a 6-1 victory.
NOTES
• Concordia improves to 6-0, 5-0 in CACC action.
• Chestnut Hill falls to 4-4, 3-2 in league play.
HOW IT HAPPENED
• Junior Ann Kathrin Wirlitsch (Dresden, Germany) and freshman Alexandra Dumitrescu (Spring, Texas) earned blanked Nicole Yang and Mariana Sanchez at the third doubles position 6-0.
• Freshmen Ebba Rosberg (Stockholm, Sweden) and Paula Palero (Culera, Spain) outlasted Carlota Garcia and Gianna Vassalluzzo on court two 7-5.
• Juniors Angelica Karlsson Hantzis (Fuengirola, Malaga, Spain) and Josefina Torres Martin (Miami, Fla.) fell in the tiebreaker game against Barbara Broville and Mia Covic at the top flight in a 7-6 contest.
• Rosberg won at the top singles slot 6-3, 6-2 against Covic.
• Karlsson Hantzis outlasted Broville in the opening set at the second position 7-5 before crusing to a 6-1 second-set score.
• Torres Martin fell in back-to-back tiebreaker games at the third flight.
• Palero blanked Yang at the fourth position 6-0, 6-0
• Wirlirsch won her opening set on court five against Vassalluzzo 6-0 with a 6-2 second-set score.
• Dumitrescu prevailed against Sanchez 6-1, 6-0.

UP NEXT
The Clippers venture to Post University on Wednesday, Oct. 9 for a 3 p.m. CACC contest.
For the latest on Concordia athletics, find us on Facebook, Twitter and Instagram.