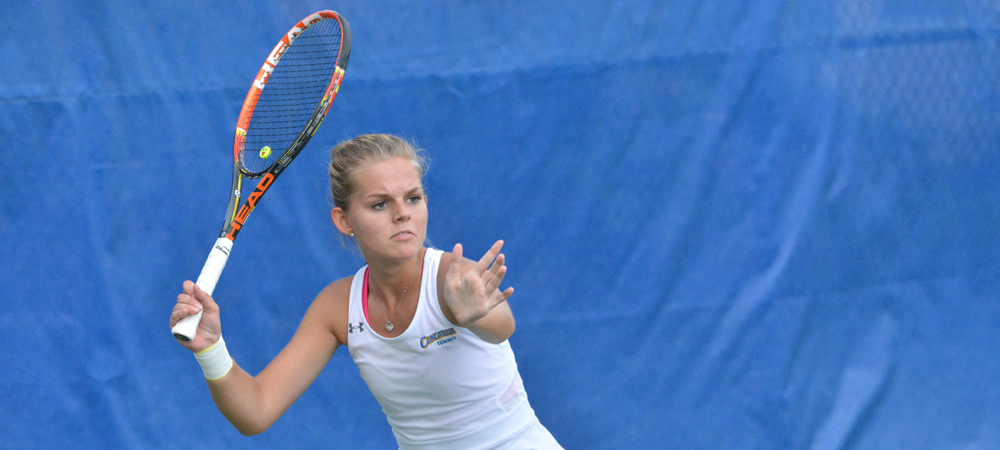 PHILADELPHIA – The Concordia College (N.Y.) women's tennis team traveled to Jefferson University on Wednesday afternoon for a Central Atlantic Collegiate Conference (CACC) contest, defeating the host Rams 6-1.
NOTES
• Concordia improves to 8-2 overall, 6-1 in CACC play.
• Jefferson falls to 4-5, 2-4 in league action.

HOW IT HAPPENED
• The duos of senior Tadi Mrewa (East London, South Africa) and sophomore Katrina Sta Cruz (Las Vegas, Nev.) made quick work of their Jefferson opposition, Inec Blanc and Katelyn High, 6-0 at the third doubles flight.
• Senior Kristel Kalm (Stokholm, Sweden) and sophomore Franziska Putschbach's (Moenchweiler, Germany) dropped a 6-3 decision to Marta Yevstakhevych and Lauren Candia on the first court.
• Sophomores Angelica Karlsson Hantzis (Fuengirola, Malaga, Spain) and Josefina Torres Martin (Miami, Fla.) outlasted Chang Wei and Millie Coombes 7-5 at the second position to give Concordia the doubles point.
• Mrewa bested Coombes 6-1, 6-2 at the fourth singles slot.
• Karlsson defeated Yevstakhevyc 6-4, 6-3 at the top position.
• Kalm forced a third set on court two after falling in the opener, but could not complete the comeback in a 6-1, 4-6, 7-6 (7-4) contest.
• Torres survived a second set revival from Candia at the third flight in a 6-3, 2-6, 6-2 decision.
• Putschback earned a victory at the fifth position in three-set fashion via 6-2, 4-6, 6-4 decision over Blanc.
• Freshman Hillary Sherpa (Ridgefield, Conn.) overcame a first-set setback with a strong second set and super tiebreaker to end play with a 2-6, 7-5, 10-7 victory.
UP NEXT
Concordia concludes its CACC slate on Friday, Oct. 12 at home against defending conference champions Goldey-Beacom College with the regular season title still up for grabs. First serve for the conference bout is scheduled for 2 p.m.
For the latest on Concordia athletics, find us on Facebook, Twitter and Instagram