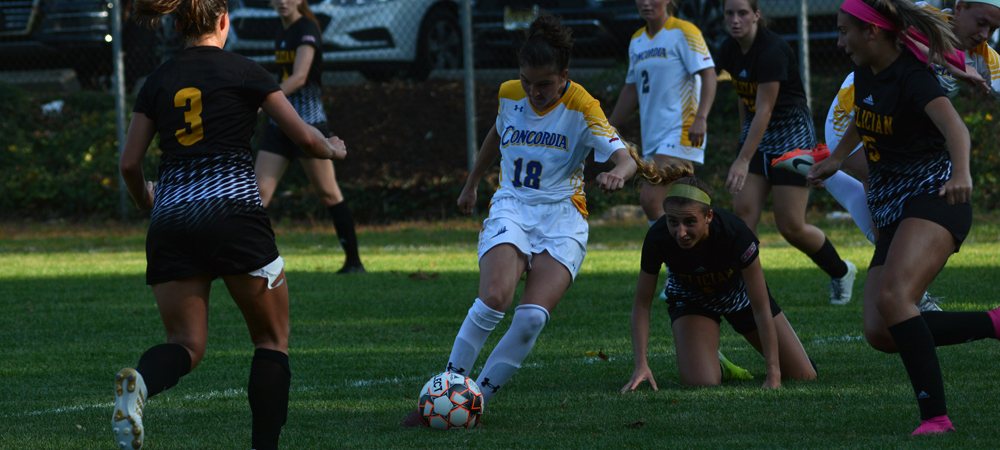 NYACK, N.Y. – The Concordia College New York women's soccer team got an early goal from sophomore forward Jimena Garcia-Risoto (Madrid, Spain) and held onto to the lead for the bulk of Tuesday evening's Central Atlantic Collegiate Conference (CACC) contest, but a pair of late goals from Nyack College propelled the host to a 2-1 decision.
NOTES
• Concordia falls to 4-6-1, 2-4-1 in CACC play.
• Nyack improves to 2-8-1, 2-4-1 in league action.
STANDOUT PERFORMERS
• Garcia scored her fourth goal of the season off two shots with one on goal.
• Freshman midfielder Leigh-Ann Ramsay (Bronx, N.Y.) dished out one assist while taking three shots.
• Redshirt-junior forward Sara Calvert (Apple Valley, Calif.) took three shots with a team-high two shots on frame.
• Redshirt-sophomore keeper Sophia Cogan (Seal Beach, Calif.) stopped three shots.
• For Nyack, Shanice Rapp and Zion Dewerff both scored one goal while Camile Parada and Milena Ricken each registered one assist.

HOW IT HAPPENED
• Ramsay found Garcia-Risoto in the ninth minute of action to give the Clippers an early 1-0 lead.
• Ricken connected with Rapp in the 71st minute to even the score at 1-all.
• Dewerff scored in the 80th minute off a pass from Parada to take a 2-1 advantage.
INSIDE THE BOX SCORE
• Concordia took 12 shots with five on target, Nyack took 10 with five on goal.
• Nyack held a 7-5 advantage in corner kicks.
• Neither sides received a caution.

UP NEXT
The Clippers host Goldey-Beacom College on Saturday, Oct. 19 as part of Homecoming Weekend, with kickoff set for 12 p.m.
For the latest on Concordia athletics, find us on Facebook, Twitter and Instagram.