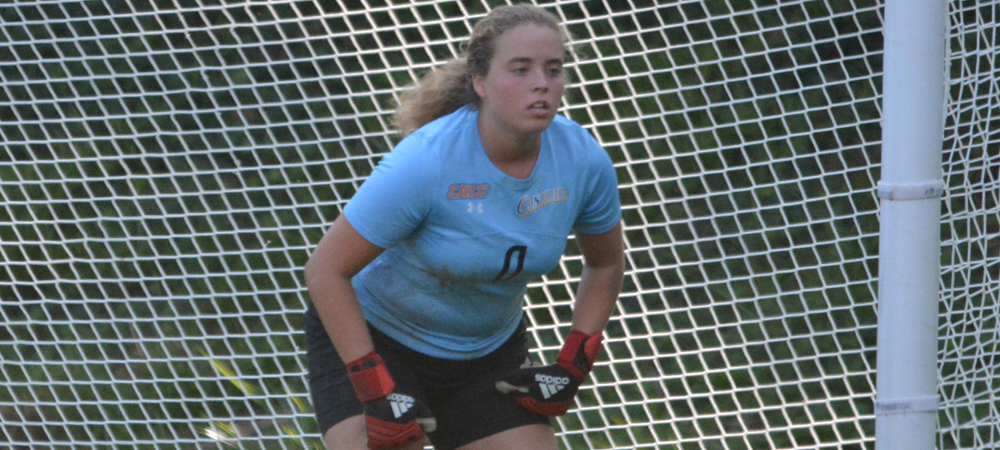 Bloomfield, N.J. – Freshman goalkeeper Jocelyn Hellier (Lithia, Fla.) entered the Concordia College (N.Y.) women's soccer program's record book for single-season saves on Tuesday evening in the Clippers' Central Atlantic Collegiate Conference (CACC) contest, a 3-0 setback at host Bloomfield College.
NOTES
• Concordia falls to 1-11, 1-9 in CACC play.
• Bloomfield improves to 2-12-1, 1-9-1 in league action.
STANDOUT PERFORMERS
• Hellier recorded seven saves, giving her 107 on the year to pass Steph Wilczynski's 102 mark in 2016 for the 10th-most by a Clipper in a single season. She now sits two behind Samantha Street's 109 total from 2014.
• Senior forward Maddi Paulson (Kalispell, Mont.) took a team-best four shots with two on target.
• Senior forward Dayna Darcy (Plainedge, N.Y.) took two shots with both on goal.
• For Bloomfield, Lisa Parello scored two goals with Brigid Dwyer adding one while Emma Martin, and E. Quiroz both tallied an assist.
HOW IT HAPPENED
• Dwyer got the host on the scoreboard in the 45th minute off a pass from Martinetti to hold a 1-0 lead at halftime.
• Parello scored back-to-back goals in the 67th and 68th minute with Quiroz assisting her second score to create a 3-0 score.
INSIDE THE BOX SCORE
• Concordia recorded 11 shots, six on goal versus 18 with 10 on target for Bloomfield.
• Both sides had four corner kicks
• Neither side received a caution.

UP NEXT
The women's soccer team kicks off the Concordia College Athletic Departments' 2018 Homecoming schedule on Saturday, Oct. 20 against Jefferson University at noon.
For the latest on Concordia athletics, find us on Facebook, Twitter and Instagram.