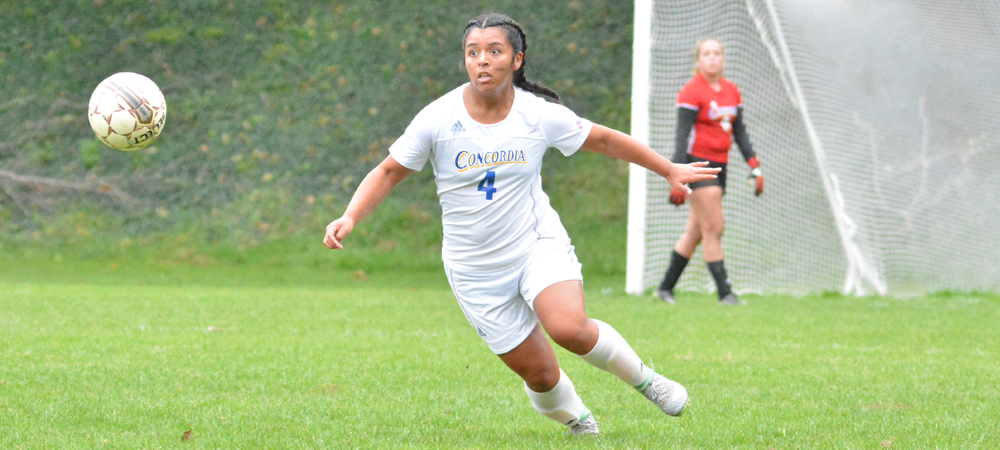 WILMINGTON, Del. – The Concordia College (N.Y.) women's soccer team traveled to Goldey-Beacom College on Saturday afternoon for a Central Atlantic Collegiate Conference (CACC) match, falling to the host Lightning 9-0.
NOTES
• Concordia falls to 1-10, 1-8 in CACC play.
• Goldey-Beacom improves to 12-3, 9-1 in league action.
STANDOUT PERFORMERS
• Freshman keeper Jocelyn Hellier (Lithia, Fla.) recorded seven saves, giving her 100 on the season.
• Sophomore midfielder Kayla Lanza (New Milford, Conn.) took a team-best three shots with one on target.
• Senior forward Dayna Darcy (Plainedge, N.Y.) and junior defender Miranda Merino (Victorville, Calif.) both recorded two shots with one on goal apiece.
• For Goldey-Beacom, Alanna Speaks boasted three goals with Jenna Fannon and Cliona Crammond both scoring twice plus Melayna Immediato and Line Kristoffersen each logging one goal.
HOW IT HAPPENED
• GBC took a 1-0 lead in the 11th minute, using a Jenna Fannon pass to Speaks for the first score of the afternoon.
• Immediato created back-to-back goals for the hosts, finding teammates Crammond and Fannon in the 22nd and 24th minute to extend the separation to 3-0.
• The Lightning added a pair of goals to its lead in the 30th minute off scores from Speaks and Fannon, while a Kristoffersen tally in the 36th minute created a 6-0 halftime score.
• Crammond found the back of the net in the 48th minute, while Speaks completed the hat trick at the 57:00 mark to make it 8-0.
• The hosts found the back of the net in the 71st minute off the foot of Immediato to create the final score.
INSIDE THE BOX SCORE
• Concordia recorded seven shots, three on goal versus 24 with 16 on target for Goldey-Beacom.
• GBC held a 9-1 advantage in corner kicks.
• Concordia received the lone caution.

UP NEXT
The women's soccer team plays its final road CACC match of the season on Tuesday, Oct. 16 at Bloomfield with kickoff scheduled for 7 p.m.
For the latest on Concordia athletics, find us on Facebook, Twitter and Instagram.