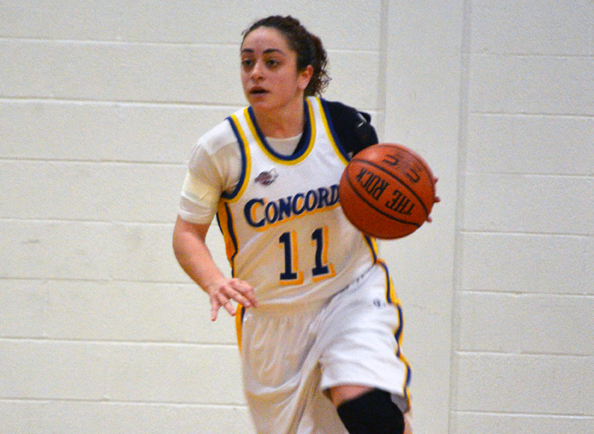 NYACK, N.Y. - The Concordia Clippers women's basketball team returned to their Central Atlantic Collegiate Conference (CACC) schedule on Wednesday evening for a North Division showdown at Nyack College. Concordia would hold on to their six-point advantage in the final minute of the game to claim a 68-65 victory over the Warriors at Bowman Gymnasium.
The Clippers jumped out to the early 6-2 lead in the first half as Nyack would grab their first lead of the game at the 14:07 mark with a 13-11 advantage after a three-point basket. Both sides would put on a three-point shooting showcase as they combined for 13 three-point baskets in the first 20 minutes of action. At the half Concordia held a 43-40 lead with senior KellyAnn Caravello (Amity Harbor, N.Y.) pacing the Clippers with 15 points in the period.
In the second half Concordia began with four unanswered points and would build their advantage to a nine-point lead at 57-48 with 10:31 remaining in regulation. From here the Warriors would rally off eight unanswered points to get within a point at 57-56 with 3:27 to go.
Sophomore Jessica Rosalbo (Staten Island, N.Y.) broke the drought for the Clippers with a layup which sparked a 9-4 run for Concordia to give them the 66-60 lead with under a minute to play. A three-point play for Nyack cut the lead to three points with under 20 seconds to play but the Warriors were unable to get any closer as the Clippers held on for the 68-65 win.
Rosalbo led the way for Concordia with a game-high 18 points and five assists while adding four rebounds and two steals. Caravello would add 15 points including a team-best three three-point baskets while adding two steals and two assists as freshman Julianne Wilkinson (Red Hook, N.Y.) came off the bench to record 10 points, three assists, two steals, and two rebounds.
As a team the Clippers shot 43.9% from the field while Nyack shot 39.3%. Concordia held a slim rebounding advantage, 38-36, while the Warriors controlled the points off turnovers, 21-16.
The Clippers (3-9, 3-3 CACC) will visit Felician for their next game on Saturday afternoon. Tip-off in Rutherford, N.J. is set for 1 p.m. as fans unable to attend the game can follow the action via the live stats link under the women's basketball schedule page on ConcordiaClippers.com.