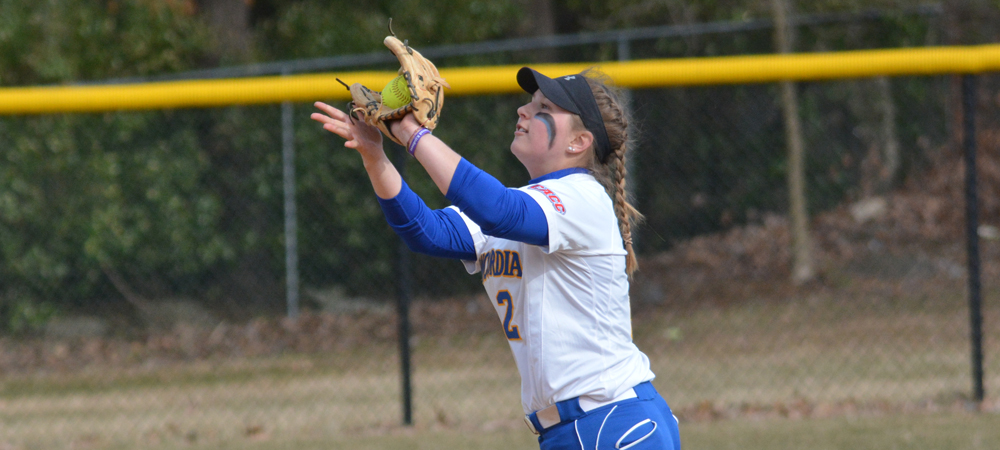 BRONXVILLE, N.Y. – The Concordia College New York softball team hits the road for four games in Philadelphia, Pa. this weekend, starting with a Central Atlantic Collegiate Conference (CACC) doubleheader at Chestnut Hill on Saturday, Mar. 30 before traveling to the University of the Sciences for a conference twinbill on Sunday, Mar. 31 with both slatted for a 12 p.m. start.
Match Information: Chestnut Hill
Date: Saturday, March 30, 2019 | 12:00 p.m. (Game 1) | 3:00 p.m. (Game 2)
Location: Philadelphia, Pa. | Softball Field
All-Time Series: Concordia leads 11-7
Last Time: Chestnut Hill, 3-1 (Game 1) | Chestnut Hill, 3-2 (Game 2) (April 21, 2018)
Media: Live Stats | Live Video

Match Information: USciences
Date: Sunday, March 31, 2019 | 12:00 p.m. (Game 1) | 2:00 p.m. (Game 2)
Location: Philadelphia, Pa. | Richie Ashburn Field
All-Time Series: Concordia leads 10-9
Last Time: Concordia, 7-0 (Game 1) | USciences, 6-0 (Game 2) (April 29, 2018)
Media: Live Stats |
About the Clippers
Concordia (6-8, 2-4 CACC) treks to Philadelphia after splitting a doubleheader against Bloomfield College, falling to the visiting Bears 3-0 before ending the day with a 10-5 victory.
The Clippers are hitting .271 (94-347) as a team with a .346 slugging percentage off the strength of 14 doubles, three triples and two home runs while tallying 56 RBI and 37 walks. Senior outfielder Yeisy Cruz (Bronx, N.Y.) boasts a team-best .556 batting average, leading four Clippers hitting over .300 with freshman utility player Jordan Bordonaro (Lake Grove, N.Y.), senior catcher/first baseman Tori Tansley (Old Forge, Pa.) and freshman shortstop/second baseman Ellen Little (Port Deposit, Md.) holding clips of .350, .324 and .308, with Cruz adding a double and triple for a team-high .722 slugging percentage. Freshman utility player Carly Berezny (Oxford, N.J.) hits a team-leading four triples, with senior shortstop/outfielder Audrey Gardus (Carbondale, Pa.), Cruz and Tansley all recording one triple while freshman first baseman Ashdon Clark (Gouldsboro, Pa.) and Berezny each have one home run. Berezny also leads the team with 13 RBI and matches Clark with six walks while Little and Cruz both score 10 runs with Gardus swiping a team-high four bases.
On the mound, Concordia holds a team ERA of 4.22 with 39 strikeouts and 28 walks in 86.1 innings. Sophomore RHP Ashley Walsh (Scranton, Pa.) sports a team-low 3.50 ERA, with junior righty MacKenna Powell (Milford, Pa.) logging a team-high 42.1 innings on top of a team-leading 20 strikeouts, seven starts, six complete games and three victories while freshman RHP Madison Shura (Wallingford, Conn.) holds the Clippers' lone save.
About the Griffins
Chestnut Hill (6-10, 2-2 CACC) returns to league play after falling in both outings of a doubleheader at West Chester University by scores of 7-2 and 7-1 on Wednesday, Mar. 20.
The Griffins are hitting .272 (114-419) as a team with a .356 slugging percentage off 12 doubles, two triple and three home runs to go with 57 RBI and 49 walks. Lily Winn leads Chestnut Hill with a .455 batting average, 10 RBI and three stolen bases that matches Alessandra Messsina for the team high. Lily Reid hits a team-high three doubles with Ariel Magee and Devon Horner both tallying a triple and home run while Kaya Swanek adds one homer with a .350 batting average and team-high .500 slugging percentage.
On the mound, Chestnut Hill sports a team ERA of 3.42 with 58 strikeouts and 30 walks in 102.1 innings. Nicole Eberhard holds a team-low 2.45 ERA, while Kaley Wise boasts a 4-4 record in nine appearances over 49.0 innings with 30 strikeouts and six complete games.
About the Devils
Facing Felician University on Saturday, Mar. 30, USciences (2-14, 1-3 CACC) welcomes Concordia for the doubleheader originally scheduled for Mar. 16 after falling at nationally-ranked Georgian Court University in a doubleheader 10-0, 9-1 on Wednesday, Mar. 27.
The Devils are hitting .214 (80-374) as a team with a .225 slugging percentage off four doubles to go with 25 RBI and 26 walks. Gabrielle Simms paces USciences with a .395 batting average and six runs scored while matching Madison LaPlante, Rebecca Colandrea and Nina Cencetti with one double. Colandrea and Gina Pustizzi both have five RBI, with Pustizzi adding a .314 batting average while Miranda Rodriguez records a team-high two stolen bases.
On the mound, USciences sports a team ERA of 7.32 with 60 strikeouts and 50 walks in 94.2 innings. Kaitlyn Gaynor holds a team-low ERA of 2.50 in nine appearances with seven starts over 47.2 innings with 35 strikeouts and two victories.
Up Next
The softball team hosts Caldwell University on Thursday, April 4 in a doubleheader starting at 3 p.m.
For the latest on Concordia athletics, find us on Facebook, Twitter and Instagram.