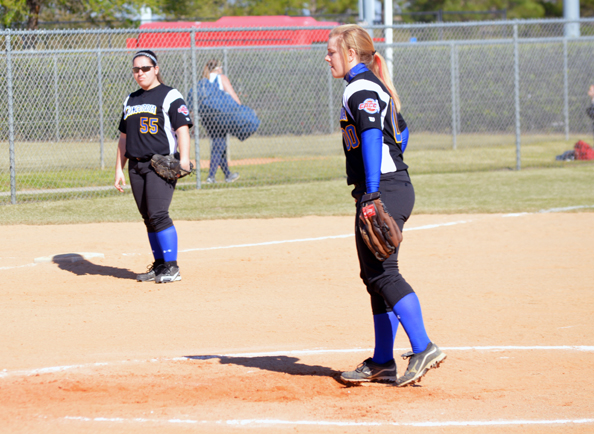 Orangeburg, N.Y. – The Concordia Clippers softball team visited Nyack College on Thursday afternoon for a Central Atlantic Collegiate Conference (CACC) doubleheader. Sophomore Hannah Rubasky (Nanticoke, Pa.) would throw a no-hitter in an 8-0 game one victory for Concordia as the Clippers would split the two games, 8-0 and 9-3.
Concordia began the first game with a lone run in the top of the first inning as freshman Carly Mertens (Freeport, N.Y.) grounded into a double play and allowed sophomore Brittany Lampert (Shelton, Conn.) to score from third base. The Clippers added four more runs in the second inning as a base loaded triple by Lampert brought in three runs and then sophomore Victoria Vickerman's (Clinton, Conn.) RBI ground out allowed Lampert to score the fifth run for Concordia.
In the top of the fourth the Clippers would bring in three more runs Vickerman's three RBI double with the bases loaded would clear the bases for Concordia. Nyack was unable to score any runs in the game as the Clippers would take an 8-0 win in five innings.
Rubasky pitched a complete game no-hitter as she recorded three strikeouts in the game. She almost recorded a perfect game but an error in the fourth inning by Concordia was the only blemish during the game.
In the second game the Warriors began with four runs in the home half of the first inning and then added three more runs in the second inning to take a 7-0 lead. The Clippers would respond with three runs in the top of the third as Vickerman homered with a runner on and Mertens followed in the next at-bat with a solo home run.
Nyack would add on two insurance runs in the fifth inning as Concordia was unable to mount a comeback and the Warriors secured a 9-3 victory.
Sophomore Caitlyn Callas (Wallkill, N.Y.) was tagged with the loss for the Clippers as she allowed four runs on two hits in 0.2 innings. Junior Amanda Ramirez (Lindenhurst, N.Y.) came in to complete the remainder of the game allowing three earned runs on seven hits while striking out two batters.
Concordia (2-11, 1-7 CACC) will next visit Goldey-Beacom on Saturday afternoon. The CACC doubleheader is set to begin at 12 p.m. in Wilmington, Del. as fans unable to attend can follow the action via the live stats link on ConcordiaClippers.com.