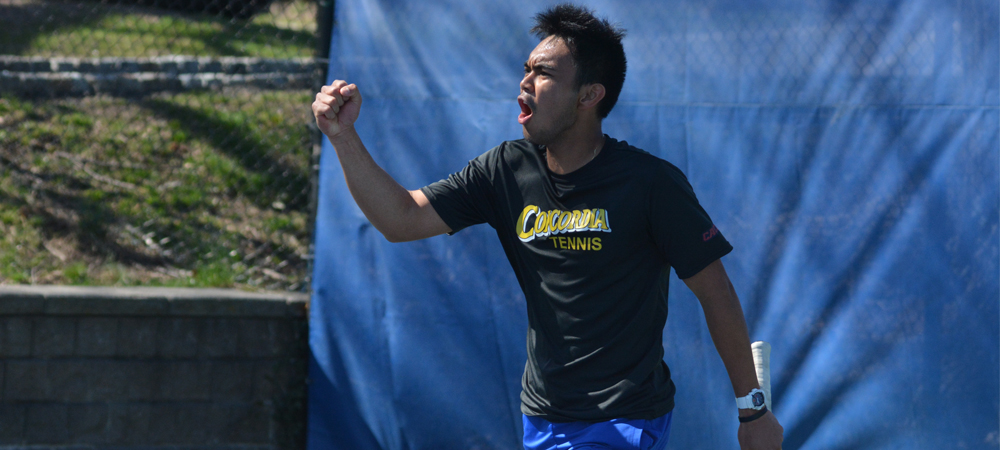 BRONXVILLE, N.Y. – Sophomore William Nilsson (Bastad, Sweden) and freshman Jan Godfrey Seno (Cebu City, Philippines) stifled their Queens College (N.Y.) opposition on Wednesday afternoon, with the pair prevailing at the top doubles position and winning their singles bouts with the score tied to propel the No. 29 Concordia College New York men's tennis team past the visiting Knights 4-2 in a contest between the top-two team in the most recent Intercollegiate Tennis Association (ITA) East Region rankings.
NOTES
• Concordia improves to 14-3.
• Queens falls to 8-7.
HOW IT HAPPENED
• Sophomore Michele Fenoaltea (Rome, Italy) and freshman Maximilian Grundmann (Schwerte, Germany) blanked Hugo Evangelista and Nicholas Volos 6-0 at the third doubles court.
• Nilsson and freshman Godfrey Seno prevailed at the top flight over Cosme Jubera and Richard Sec 6-3.
• senior Eymeric Chevalier (Bordeux, France) and sophomore Henry Masters (Southampton, England) fell 6-4 against Lucas Demuth and Kareem Rashad at the second position.
• Masters fell to Rashad at the second singles slot 6-3, 6-3.
• Chevalier outlasted Jubera at the top position 6-4. 7-5.
• 41st-ranked Fenoaltea recovered from a 6-1 opening set at the third flight but could not force the tiebreaker set as Demuth took the second 7-6 with a 7-5 tiebreaker decision.
• Nilsson bested Richard on court four behind a pair of 6-4 decisions.
• Godfrey Seno outlasted Biblioni at the fifth position 6-2, 6-3.
• With the contest already decided, Grundmann's contest at the sixth slot against Jose Zurro after the freshman prevailed in the opening set 7-5.
UP NEXT
The men's tennis team travels to Division I Wagner University on Monday, April 15 for a 3 p.m. match.
For the latest on Concordia athletics, find us on Facebook, Twitter and Instagram.