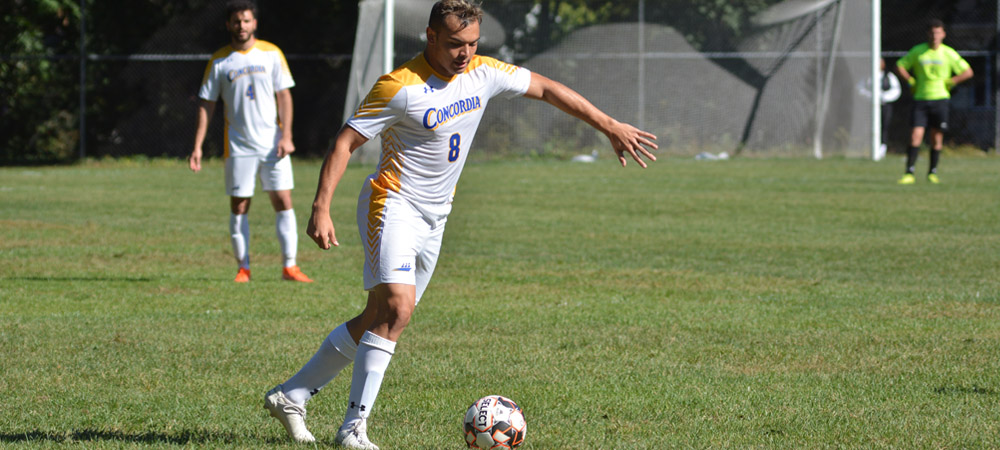 ORANGEBURG, N.Y. – Junior midfielder Alessandro Battaglia (White Plains, N.Y.) scored a career-high two goals at Dominican College on Wednesday afternoon, the only scores by the Concordia College New York men's soccer team in a 4-2 Central Atlantic Collegiate Conference (CACC) setback against the host Chargers.
NOTES
• Concordia falls to 7-7 overall, 6-5 in CACC play.
• Dominican improves to 7-9, 5-5 in league action.
• With Caldwell University falling against Post University today, the men's soccer team has clinched a berth in the CACC Championship.
STANDOUT PERFORMERS
• Battaglia's two scores came off four shots with two on target.
• Senior defender Romardo Bigsby (Kingston, Jamaica) registered an assist.
• Junior keeper Mikael Varin (Toulouse, France) stopped three shots
• For Dominican, Maximino Casares Martinez recorded two goals with as many assists while Jhosep Tovar and Jean Paul Lyons each scored a goal while Tovar and Ewan Gray both dished out an assist.

HOW IT HAPPENED
• Martinez found Lyons 1:52 ticks into the match to give the host an early 1-0 lead.
• Feilscher connected with Battaglia in the 15th minute to even the score.
• Martinez found the back of the net in the 25th minute off a pass from Tovar.
• Martinez added to the separation in the 75th minute off a pass from Gray.
• Martinez connected with Tovar in the 77th minute to boast a 4-1 advantage.
• Battaglia recovered the rebound from senior midfielder Elad Katz's (Tel Aviv, Israel) attempt and placed the ball in the goal to create the final score.
INSIDE THE BOX SCORE
• Concordia took 18 shots with four on target, Dominican took 18 with seven on goal.
• Dominican held a 5-3 advantage in corner kicks.
• Concordia received four cautions with one ejection, Dominican received two cautions.

UP NEXT
The men's soccer team hosts Wilmington University (Del.) in the final home match of the regular season on Saturday, Nov. 2 with kickoff set for 2:30 p.m.
For the latest on Concordia athletics, find us on Facebook, Twitter and Instagram.