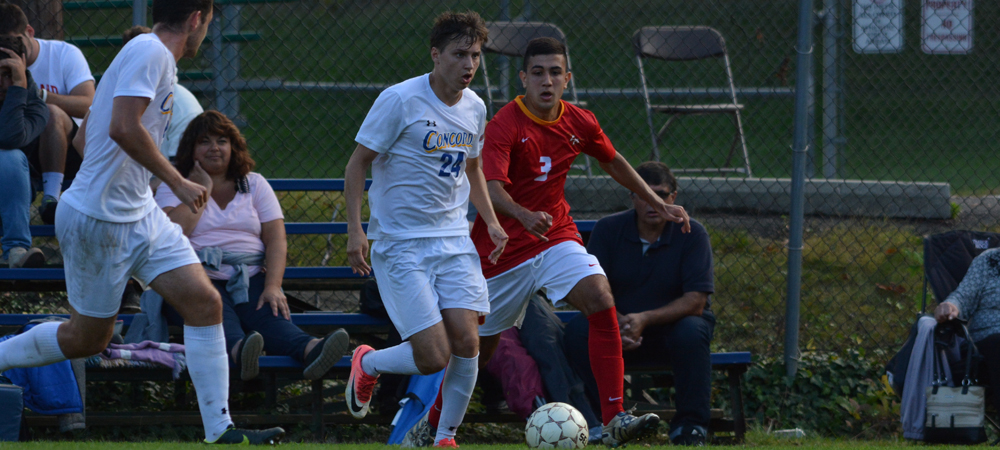 LAFAYETTE HILL, Pa. – The Concordia College (N.Y.) men's soccer team took on Chestnut Hill on Saturday afternoon, falling to the host Griffins 4-1 in a Central Atlantic Collegiate Conference (CACC) contest.
NOTES
• Concordia falls to 1-3-1 overall, 1-2 in CACC action.
• Chestnut Hill improves to 3-3, 2-1 in league play.
STANDOUT PERFORMERS
• Sophomore forward Dennis Limani (Norderstedt, Germany) scored the Clippers lone goal off five shots, two on target.
• Sophomore midfielder Luca Sanna (New Rochelle, N.Y.) recorded his first point at Concordia on an assist.
• Junior keeper Jaime Gonzalez (Madrid, Spain) stopped five shots while allowing four past.
• For Chestnut Hill, Miguel Marra scored two goals with an assist while Jason Doherty dished out two assists with one goal and Jason Burns recorded a goal and assist.
HOW IT HAPPENED
• Limani got Concordia on the scoreboard in the second minute, receiving a long cross from Sanna and striking from 25 yards out to make it 1-0.
• CHC went into halftime with a 2-1 lead after back-to-back scores in the 12 and 29 minute via a goal from Doherty and a Marra score off a pass from Doherty
• The Griffins added to the lead in the second half, getting a second goal from Marra in the 58th minute and one from Burns in the 59th to create the final score.
INSIDE THE BOX SCORE
• Concordia finished the match with 17 shots, five on target, versus 14 for the Griffins with 10 on goal.
• Concordia held a 2-1 advantage in corner kicks.
• Concordia received five cautions, CHC received one.

UP NEXT
The Clippers hosts Dominican (N.Y.) on Wednesday, Sept. 19 at 3 p.m.
For the latest on Concordia athletics, find us on Facebook, Twitter and Instagram.