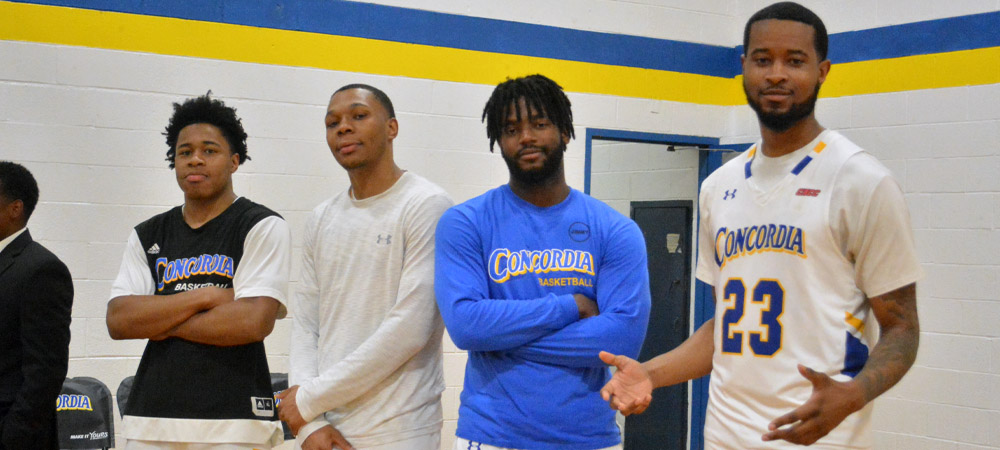 BRONXVILLE, N.Y. – The Concordia College New York men's basketball team concludes the home portion of its 2019-20 schedule on Saturday, Feb. 22 when the Clippers host Central Atlantic Collegiate Conference (CACC) North Division foe Felician University with tip-off set for 3 p.m.
Match Information: Felician
Date: Saturday, February 22 2020 | 3 p.m.
Location: Bronxville, N.Y. | Meyer Athletic Center
All-Time Series: Felician leads 13-9
Last Time: Felician, 87-80 (December 18, 2019)
Media Coverage: Live Stats | Live Video
About the Clippers
Concordia (5-20, 4-12 CACC) hosts its final opponent of the campaign following a 74-61 setback to Nyack on Tuesday, Feb. 18. The Clippers average 67.5 points on a .385 field goal percentage with 34.0 rebounds, 12.0 assists, 7.4 steals and 3.2 blocks.
Sophomore forward Devon Sims (Centreville, Va.) paces the Clippers' offense behind 12.0 points, followed by senior guard Jesse Breeding (Cortlandt Manor, N.Y.) who chips in 11.5 points. Junior guard Jared Young (Mount Vernon, N.Y.) adds 11.1 points and a team-leading 2.0 steals, fourth-best rate in the conference, while freshman guard Dion Herrington (Englewood, N.J.) dishes out 2.9 assists. Junior forward Alex White Jr. (Middletown, Conn.) boasts a team-leading 6.2 rebounds and 1.8 blocks, the third-best average within the CACC.
About the Golden Falcons
Sitting in a tie for fourth in the North Division standings, Felician (10-14, 8-8 CACC) makes the trip to Bronxville after falling to division-leader Post University 68-62 on Tuesday, Feb. 18. The Golden Falcons average 76.7 points on a .448 field goal percentage with 38.9 rebounds, 15.1 assists, 6.3 steals and 2.3 blocks.
Jay'von Jackson leads a trio of Golden Falcons averaging double-digit points with 12.7, followed by Jeff Lewis who chips in 11.3 points on a .563 clip on top of a team-best 0.8 blocks. Dee-End McRae records a team-best 6.8 rebounds on top of 10.7 points, while Jaylene Colon registers 3.3 assists and Rachid Shimou boasts 1.3 steals.
Up Next
The men's basketball team hits the road on Wednesday, Feb. 26 to take on Dominican College (N.Y.) in a 7:30 p.m. contest.
For the latest on Concordia athletics, find us on Facebook, Twitter and Instagram.