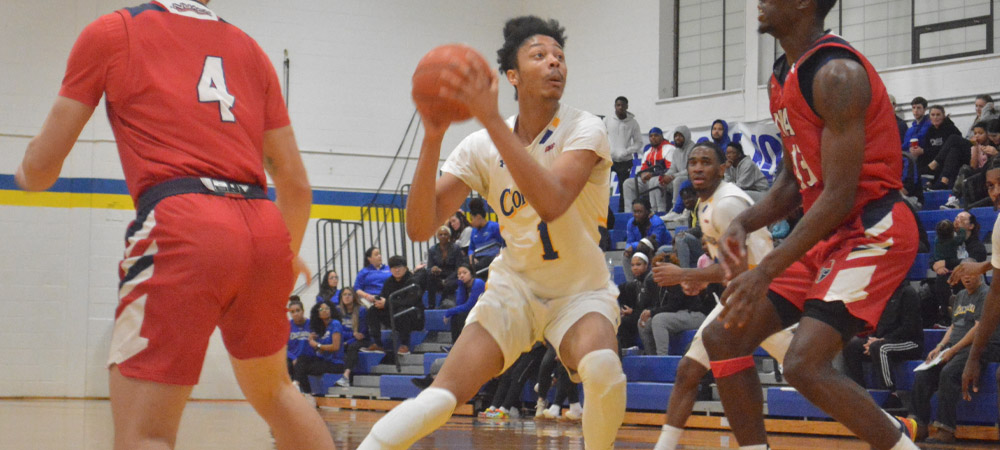 BRONXVILLE, N.Y., – Led by a three-blocks outing from junior forward Alex White Jr. (Middletown, Conn.) and five members of the Concordia College New York men's basketball team joining the block party with at least one rejection on Tuesday evening, the Clippers set the program record for team blocks in a game with nine in a 74-61 Central Atlantic Collegiate Conference (CACC) setback to visiting Nyack College.
NOTES
• Concordia falls to 5-20, 4-12 in league play.
• Nyack improves to 12-12, 7-9 in CACC action.
• The Clippers had previously recorded eight blocks three times on record, most recently against Post University on Nov. 19, 2014.
STANDOUT PERFORMERS
• Junior guard Jared Young (Mount Vernon, N.Y.) scored a team-high 19 points with two assists and two steals.
• Senior guard Jesse Breeding (Cortlandt Manor, N.Y.) chipped in 12 points with five rebounds, three assists and two blocks.
• Redshirt-junior guard Brandon Fields (Washington, D.C.) pulled down five boards.
• Freshman guard Dion Herrington (Englewood, N.J.) dished out three assists with three steals and a career-high two blocks
• For Nyack, Joel Bailey scored 17 points with four assists while Jayden Dawson recorded 11 points with 10 rebounds.
HOW IT HAPPENED
• After splitting the opening 20 points of the contest, Concordia used a 5-0 run to take a 15-10 lead with 12:42 remaining in the half.
• Nyack countered with a 5-0 run of its own, with the two sides going back-and-forth over the ensuing 24 points with five tied scores during the stretch before back-to-back Warriors' baskets created a 31-27 sscore with 2:59 remaining in the half.
• Concordia knotted the score off consecutive baskets, but a late Nyack basket kept the visitors ahead at the break, 33-31.
• Nyack began the second half with a 12-2 run to create a double-digit advantage at 45-33 with 15:41 left to play.
• Concordia used a Breeding triple and Young layup back-to-back to quickly get within seven, with the two sides trading the ensuing six points before a 9-2 Nyack run extended the deficit to 57-43 with 11:08 remaining.
• Facing a 61-45 separation, Concordia used a 10-2 rally to cut the gap down to single digits at 63-55 with 5:49 left in the contest.
• Nyack ended the rally with back-to-back baskets and held the Clippers without consecutive baskets for the duration of the contest.
INSIDE THE BOX SCORE
• The Clippers converted 25-60 shots, going 4-18 from three-point territory and 7-10 from the free throw line.
• Nyack finished 29-62 from the field, 5-18 from distance and 11-14 from the free throw line.
• Concordia recorded 16 assists while Nyack had 19.
• Nyack held a 43-29 advantage in rebounds.
• Concordia committed 14 turnovers, resulting in 23 points for the Warriors. Nyack had 16 turnovers, leading to 12 points.
• Concordia's bench scored 15 points while the visitors got 17 from its bench.
• Concordia recorded eight steals with nine blocks while Nyack stole the ball 10 times with three blocks.

UP NEXT
The men's basketball team hosts Felician University on Saturday, Feb. 22 with tip-off set for 3 p.m.
For the latest on Concordia athletics, find us on Facebook, Twitter and Instagram.