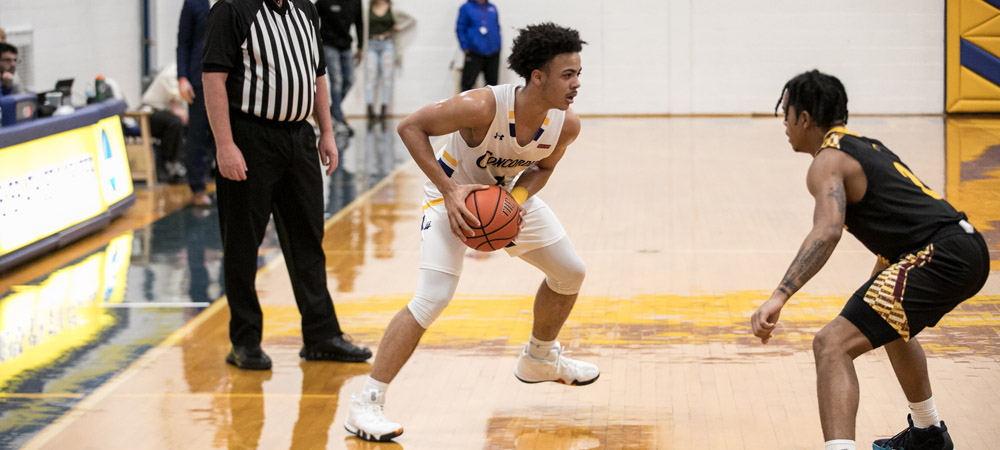 LAKEWOOD, N.J. – The Concordia College New York men's basketball team overcame an early 2-0 deficit on Saturday afternoon and never trailed again in its Central Atlantic Collegiate Conference (CACC) contest at Georgian Court University, fending off a late rally from the host while setting the team's season-highs in five offensive categories in an 83-80 triumph.
NOTES
• Concordia improves to 3-14, 2-6 in league play.
• Georgian Court falls to 6-8, 4-3 in CACC action.
• Concordia's 83 points, 32 field goals made, 18 assists, .552 field goal percentage and .500 three-point field goal percentage are all season-highs.
STANDOUT PERFORMERS
• Senior forward Jesse Breeding (Cortland Manor, N.Y.) connected on a career-high 10 field goals to match his personal-record in points with 23 while adding a team-leading eight rebounds and career-best three rejections.
• Freshman guard Dion Herrington (Englewood, N.J.) scored a career-high 20 points off 9-12 shooting with four assists.
• Junior guard Jared Young (Mount Vernon, N.Y.) chipped in 11 points with four assists.
• Freshman forward Dan Porcic (Putnam, Conn.) scored 13 points with six rebounds and three assists.
• Sophomore guard Devon Sims (Centreville, Va.) dished out four assists while matching his career-high with four steals.
• For Georgian Court, Caleb Bowser scored 21 points while Kim Speller chipped in 10 points with 10 rebounds.
HOW IT HAPPENED
• Following a GCU basket to begin the contest, Concordia scored eighth-straight points to take an 8-2 lead with 18:11 remaining in the half.
• The host ended the run with a jumper, adding a triple to make it a one-point game before a 9-0 Clippers' run created a double-digit separation at 17-7 with 14:30 left in the half.
• Georgian Court connected on a three-point play to end the run, with the two sides going back-and-forth over the ensuing 12 points before a 5-0 rally from the host made it made it a one-possession game at 23-21 with 7:59 remaining in the half.
• Sims added separation off a layup, but back-to-back layups from the Lions knotted the score at 25-all with 7:09 left in the half.
• Concordia broke the stalemate with a triple, sparking a 17-4 run to recreate the double-digit advantage at 42-20 with 2:30 remaining in the half.
• GCU cut into the separation off a quick 6-0 spurt, with a freshman guard Chauncey Sterling (Wilingboro, N.J.) triple in the final minute extending the lead back to 10 before a Lions layup with 24 seconds left created a 45-37 halftime score.
• Concordia kicked off the second half with the opening five points, and 16 of the initial 18, to boast a 61-39 advantage with 14:48 left to play.
• GCU ended the run with back-to-back baskets, with neither side connecting on consecutive baskets until a 7-0 run by the host made it 72-60 with 8:26 remaining.
• Concordia ended the hosts rally behind back-to-back baskets, but a 9-0 retort by GCU cut the separation down to single digits at 76-69 with 2:19 remaining in the contest.
• GCU made it a one-possession game at 81-78, with the host responding to a pair of Porcic free throws with a layup in the final seconds to create the final score.
INSIDE THE BOX SCORE
• The Clippers converted 32-58 shots, going 9-18 from three-point territory and 10-16 from the free throw line.
• Georgian Court finished 33-77 from the field, 5-21 from distance and 9-11 from the free throw line.
• Concordia recorded 18 assists while GCU had 16.
• Georgian Court held a 48-28 advantage in rebounds.
• Concordia committed 17 turnovers, resulting in 21 points for the Lions. Georgian Court had 21 turnovers, leading to 21 points.
• Concordia' bench scored eight points while the host got 37 from its bench.
• Concordia recorded nine steals with five blocks while Georgian Court stole the ball six times with two blocks.

UP NEXT
The men's basketball team treks to Nyack College on Tuesday, Jan. 21 with tip-off slated for 7:30 p.m.
For the latest on Concordia athletics, find us on Facebook, Twitter and Instagram.