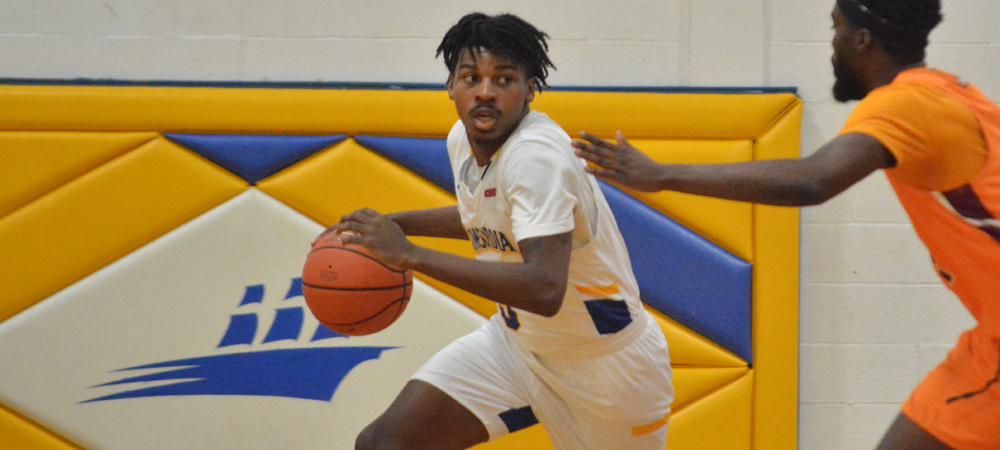 BRONXVILLE, N.Y. –The Concordia College New York men's basketball team shot a season-high .508 from the field (31-61) on Saturday afternoon against nationally-ranked Jefferson University, with four of the five Clippers who ended the Central Atlantic Collegiate Conference (CACC) contest with double-digit points shooting 50 percent or higher in a 98-74 setback.
NOTES
• Concordia falls to 1-14, 0-6 in league play.
• Jefferson, ranked 25th in the latest D2SIDA Media Poll and receiving votes in the National Association of Basketball Coaches (NABC) Poll, improves to 13-2, 6-0 in CACC action.
STANDOUT PERFORMERS
• Senior forward Jesse Breeding (Cortlandt Manor, N.Y.) led the team behind 16 points on 7-12 shooting with six rebounds and two steals.
• Sophomore forward Devon Sims (Centreville, Va.) went 6-10 from the floor for 14 points with a pair of steals.
• Junior guard Jared Young (Mount Vernon, N.Y.) used 5-7 shooting for 10 points with a pair of steals.
• Freshman guard Chauncey Sterling (Wilingboro, N.J.) chipped in 12 points off the bench.
• Freshman guard Dion Herrington (Englewood, N.J.) scored 13 points off 5-10 shooting with three assists.
• Freshman forward Dan Porcic (Putnam, Conn.) tied for the team-lead in assist with a career-high three.
• For Jefferson, DeVaughn Mallory scored 31 points with eight rebounds and five assists while Kylan Guerra chipped in 17 points with eight assists and two steals.
HOW IT HAPPENED
• Jefferson opened the contest with a layup and triple back-to-back, but a 6-0 retort by Concordia gave the visitors a 6-5 edge with 17:24 remaining in the half.
• The Clippers pushed the lead up to three at 12-9, with the two sides exchanging the ensuing four baskets to maintain the separation before a triple from the home team knotted the score at 16-all with 11:50 left in the half.
• Concordia broke the stalemate with back-to-back baskets and held onto the advantage until a Jefferson triple gave the host the lead and sparked an 11-0 run by the Rams to create a 33-23 score with 5:38 left.
• Concordia ended the run with a layup, only for another 11-0 spurt by Jefferson extending the separation to 44-25 with 1:36 remaining in the half.
• Sims and Herrington each scored a basket over the final 1:14 of the half, sandwiching a Jefferson jumper to make it 46-29 at the intermission.
• Following back-to-back layups from Jefferson to start the second half, Concordia went on a 9-0 run to make it 50-38 with 17:06 left to play.
• Concordia cut the deficit down to single digits at 53-44, but an 11-3 stretch by the Rams extended the separation to 64-47 with 11:54 remaining in the contest.
• After splitting the ensuing 20 points, Jefferson went on an 11-0 run to create an 85-57 score with 6:04 left in the game.
• Neither side connected on consecutive baskets over the ensuing 22 points before a Herrington jumper and Breeding jumper back-to-back made it 96-72 with 1:47 remaining.
• Each side added two points to its total in the last minute of play to create the final score.
INSIDE THE BOX SCORE
• The Clippers converted 31-61 shots, going 3-13 from three-point territory and 9-11 from the free throw line.
• Jefferson finished 37-56 from the field, 12-19 from distance and 12-16 from the free throw line.
• Concordia recorded nine assists while Jefferson had 24.
• Jefferson held a 38-14 advantage in rebounds.
• Concordia committed eight turnovers, resulting in 15 points for the Rams. Jefferson had 16 turnovers, leading to 16 points.
• Concordia' bench scored 14 points while the host got 20 from its bench.
• Concordia recorded seven steals while Jefferson stole the ball three times with three blocks.

UP NEXT
The men's basketball team hosts Dominican College (N.Y.) on Wednesday, Jan. 15 for a 7 p.m. contest.
For the latest on Concordia athletics, find us on Facebook, Twitter and Instagram.