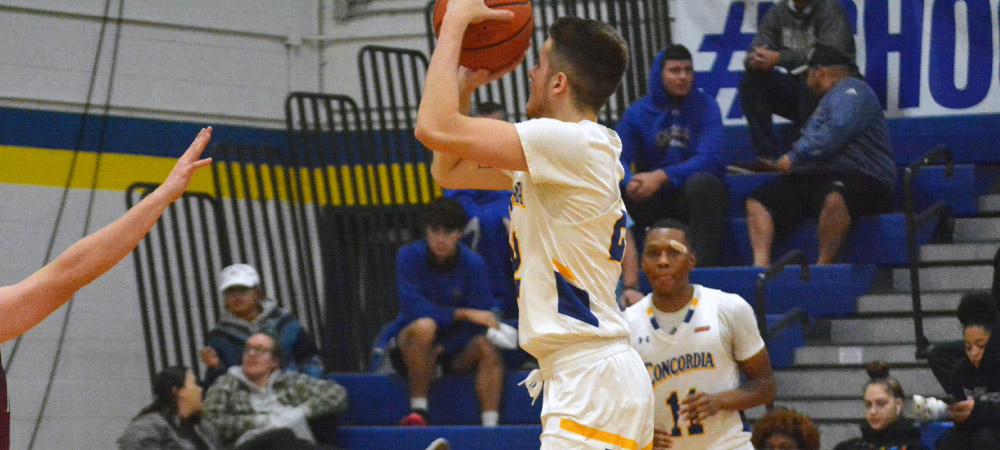 BRONXVILLE, N.Y. – The Concordia College New York men's basketball team overcame a slow start to Wednesday evenings contest against Molloy College, using a .531 second-half field goal percentage including 8-13 shooting from beyond the arc to cut a 19-point halftime deficit down to one with under 10 minutes remaining with the reigning East Coast Conference (ECC) Champions fending off the comeback effort in an 89-77 decision.
NOTES
• Concordia falls to 0-6.
• Molloy improves to 1-3.
• The Clippers' 12 three pointers made ties for the 10th-most in a game in program history.
STANDOUT PERFORMERS
• Senior guard Brandon Fields (Washington, D.C.) paced the balanced attack with 17 points on top of a personal-record eight assists and five rebounds.
• Freshman forward Dan Porcic (Putnam, Conn.) chipped in 16 points on 5-8 shooting with four triples.
• Sophomore forward Devon Sims (Centreville, Va.) logged 16 points with four steals and three assists.
• Freshman guard Dion Herrington (Englewood, N.J.) set his career-highs with 13 points and three steals.
• For Molloy, Nick Corbett connected on 7-9 shooting for 16 points with four assists while Justin Caldwell logged nine rebounds and 13 points.
HOW IT HAPPENED
• Porcic scored for Concordia on its opening possession with a triple, but a 10-0 response by Molloy made it 10-5 with 18:02 left in the half.
• Trailing 21-6 with 14:51 remaining in the half, the Clippers used a 14-3 stretch to get within four at 24-20 with 7:13 left before halftime.
• The Lions ended the half on a 20-5 run to create a 44-25 halftime score.
• Mirroring the first half, Porcic scored the opening basket of the second half.
• The two sides split the ensuing four baskets before a Porcic triple sparked a 7-0 run to get the Clippers within single digits at 48-40 with 16:15 left to play.
• Molloy countered with back-to-back baskets, but a 13-4 stretch by the Clippers made it a one-possession contest at 56-53 with 12:02 remaining.
• Concordia got as close as one at 61-60 with 9:06 left to play, matching a Molloy triple with one from junior forward Alex White Jr. (Middletown, Conn.). to keep the one-point separation before an 8-0 by the visitors made it 72-63 with 6:33 remaining.
• White Jr. ended the run with a triple, but a 5-1 response by Molloy recreated a double-digit separation at 77-67 with 4:49 left to play.
• Concordia tried to stage a comeback behind a Fields triple and tow free throws from Porcic to get within five, only for the Lions to answer with back-to-back layups while keeping the lead above seven for the remainder of the night.
INSIDE THE BOX SCORE
• The Clippers converted on 24-62 shots, going 12-19 from three-point territory and 17-22 from the free throw line.
• Molloy finished 35-58 from the field, 6-14 from distance and 13-20 from the free throw line.
• Concordia recorded 15 assists while Molloy had 23.
• Molloy held a 42-24 advantage in rebounds.
• Concordia committed 12 turnovers, resulting in 12 points for the Lions. Molloy had 18 turnovers, leading to 16 points.
• Concordia' bench scored 15 points while the Lions got 24 from its bench.
• Concordia recorded nine steals with three blocks while Molloy stole the ball six times with five blocks.

UP NEXT
The men's basketball team travels to Southern Conn. State University on Saturday, Nov. 23 with tip-off set for 1 p.m.
For the latest on Concordia athletics, find us on Facebook, Twitter and Instagram.