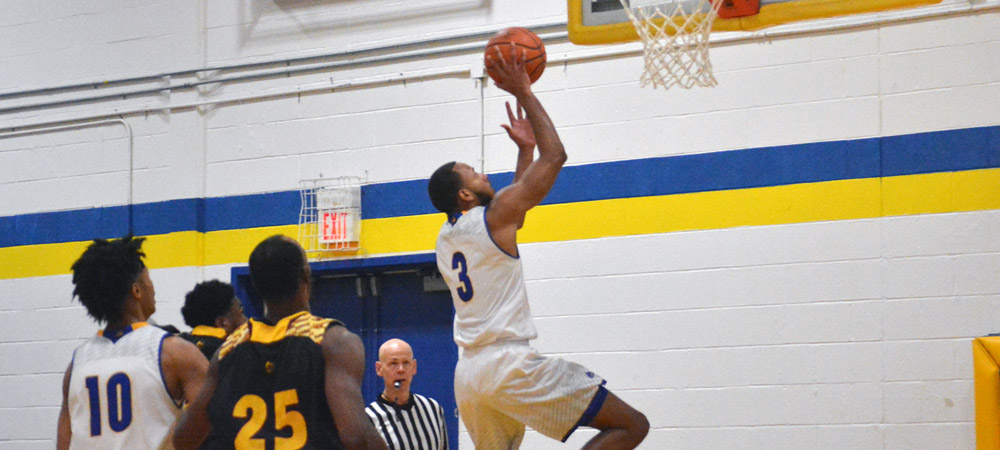 PHILADELPHIA, Pa. – All four members of the Concordia College New York men's basketball team's senior class eclipsed double-digit points on Saturday afternoon, powering the Clippers to an 80-72 Central Atlantic Collegiate Conference (CACC) triumph at the University of the Sciences.
NOTES
• Concordia improves to 9-13, 6-7 in CACC play.
• USciences falls to 7-16, 4-10 in league action.
STANDOUT PERFORMERS
• Redshirt senior guard Cedrick McFadden (Washington, D.C.) tied for the team-lead in scoring with 16 points while adding a team-high seven assists.
• Senior guard Michael Demello (White Plains, N.Y.) scored 16 points with three steals.
• Senior forward Stephen Milhaven (Port Washington, N.Y.) chipped in 15 points on 6-10 shooting.
• Senior guard Jayson Cethoute (Queens, N.Y.) scored 13 points.
• Sophomore forward Alex White Jr. (Middletown, Conn.) recorded seven rebounds.
• Sophomore forward Kyle Parris (Old Bridge, N.J.) tallied seven rebounds.
• For USciences, Paddy Casey scored 19 points with four assists while Brandon Starr pulled down six rebounds.

HOW IT HAPPENED
• After a pair of USciences free throws on the opening possession of the contest, back-to-back three pointers from Cethoute and Milhaven gave the Clippers a 6-2 lead with 18:45 remaining in the half.
• The host ended the run off a three-pointer, with a Cethoute response from beyond the arc sparking a 10-4 stretch that extended the advantage to seven at 16-9 with 16:15 to go in the half.
• The two sides split the ensuing eight points to maintain the separation at 20-13 before a 7-2 rally for USciences made it a one-possession contest at 22-20 with 11:49 remaining in the half.
• An 8-2 retort with Milhaven, freshman forward Devon Sims (Centreville, Va.) and sophomore guard Baron Goodridge (Bronx, N.Y.) added a cushion to the lead at 30-24, with a sophomore guard Jared Young (Mount Vernon, N.Y.) jump shot and Milhaven three-point play in response to USciences baskets making it 35-28 before a 10-0 rally by the host created a 38-35 score with 6:35 left in the half.
• A McFadden layup and Parris free throw knotted the score at 38-all, with a Demello triple following a Devils layup pushing the Clippers ahead 41-40 with 4:19 to play in the half.
• Demello and White Jr. added to the lead off a jumper and free throw, but UScienes countered with an 8-0 run to create a 48-44 halftime score.
• A Milhaven layup on the opening possession of the second half sparked a 12-2 run for Concordia with McFadden, Demello and Cethoute all scoring to create a double-digit lead at 60-50 with 15:25 to play in the contest.
• The two sides swapped the ensuing 14 points with neither side scoring back-to-back baskets to keep the 10-point separation at 67-57 before a quick 5-0 spurt cut the lead in half at 67-62 with 9:30 remaining in the contest.
• Concordia recreated its double-digit advantage off a Sims layup and Demello triple back-to-back, with a Sims' layup after an USciences free throw extending the lead to 74-63 with 6:02 remaining.
• The Devils managed to cut the deficit down to six at 78-72 with 2:22 to play, but Concordia kept the host without another basket while adding a McFadden jumper to its total to create the final score.
INSIDE THE BOX SCORE
• The Clippers converted on 31-69 shots, going 11-30 from three-point territory and 7-10 from the free throw line.
• USciences finished 25-54 from the field, 7-21 from distance and 15-19 from the free throw line.
• Concordia recorded 14 assists while USciences had 19.
• Concordia held a 41-31 advantage in rebounds, including an 18-9 advantage on the offensive glass.
• Concordia had 12 turnovers, resulting in 21 points for USciences. The Devils had 13 turnovers, leading to 11 Clippers' points.
• The Clippers tallied 21 second chance points versus six for the host.
• Concordia' bench scored 15 points while the host got 16 from its bench.
• Concordia recorded nine steals while USciences stole the ball six times with one block.

UP NEXT
The men's basketball team hosts CACC North-Division leader Dominican College on Wednesday, Feb. 13 in the 9th Annual Jimmy Sayegh Game, starting at 7 p.m.
For the latest on Concordia athletics, find us on Facebook, Twitter and Instagram.