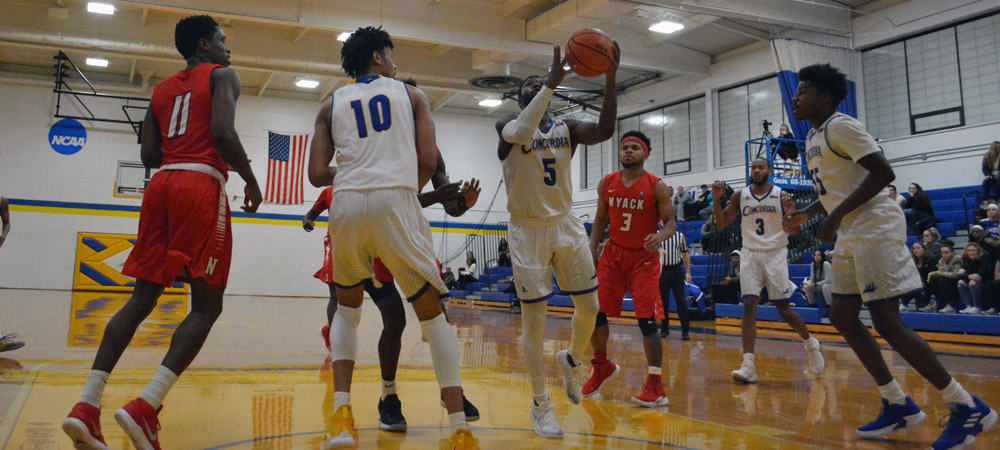 BRONXVILLE, N.Y. – The Concordia College New York Men's Basketball team set the tone early against visiting Nyack College on Tuesday evening, scoring the opening 16 points of the Central Atlantic Collegiate Conference (CACC) contest and never taking its foot off the gas in an 82-46 victory.
NOTES
• Concordia improves to 7-11 overall, 4-5 in CACC play.
• Nyack drops to 4-12, 3-5 in league action.
• The 36-point margin of victory is the largest on file since a 113-74 triumph over Mercy College on Feb. 9, 1987.
• The victory over Nyack marks the sixth inside the Meyer Athletic Center this season, the most since the 2015-16 campaign when the Clippers went 7-3 at home.
STANDOUT PERFORMERS
• Sophomore forward Alex White Jr. (Middletown, Conn.) logged his second collegiate double-double behind 13 points and 10 rebounds on top of three blocks.
• Redshirt-senior Cedrick McFadden (Washington, D.C.) scored a team-best 19 points
• Senior forward Stephen Milhaven (Port Washington, N.Y.) pulled down a team-best 12 rebounds.
• Sophomore guard Baron Goodridge (Bronx, N.Y.) dished out a team-best five assists with seven points and six rebounds.
• Senior guard Michael Demello (White Plains, N.Y.) scored 12 points.
• Sophomore forward Kyle Parris (Old Bridge, N.J.) scored a personal-best 11 points.
• For Nyack, Joel Bailey scored 12 points while Jah-Meer McDuffie recorded eight rebounds.

HOW IT HAPPENED
• White Jr., McFadden and senior guard Jason Cethoute (Queens, N.Y.) fueled the Clippers' opening run, with Nyack getting on the scoreboard via a pair of free throws to make it 16-2 with 12:14 remaining in the half.
• The Warriors chipped into the lead with a 6-3 spurt, but a 7-0 retort by Concordia created a 20-point lead at 26-6 with 7:24 to go.
• The Clippers pulled ahead by 31 at 45-14 late in the stanza, with Nyack scoring the final three points of the half to make it 45-17 at the break.
• Concordia kept the lead above 26 for the entire second half, creating a game-high 43-point lead at 82-39 off a sophomore forward Andre Francis (Hartford, Conn.) layup.
INSIDE THE BOX SCORE
• The Clippers converted on 33-74 shots, going 11-25 from three-point territory and 5-7 from the free throw line.
• Nyack finished 17-56 from the field, 2-17 from distance and 10-22 from the free throw line.
• Concordia recorded 19 assists while Nyack recorded seven.
• Concordia held a 51-37 advantage in rebounds.
• Concordia had 11 turnovers, resulting in 14 points for Nyack. The Warriors had 18 turnovers, leading to 21 Clippers' points.
• Both sides got 28 points off the bench.
• Concordia recorded eight steals with a season-high seven blocks while Nyack stole the ball seven times with four blocks.

UP NEXT
The men's basketball team travels to Chestnut Hill College on Sunday, Jan. 22 for a 3 p.m. CACC tilt.
For the latest on Concordia athletics, find us on Facebook, Twitter and Instagram.