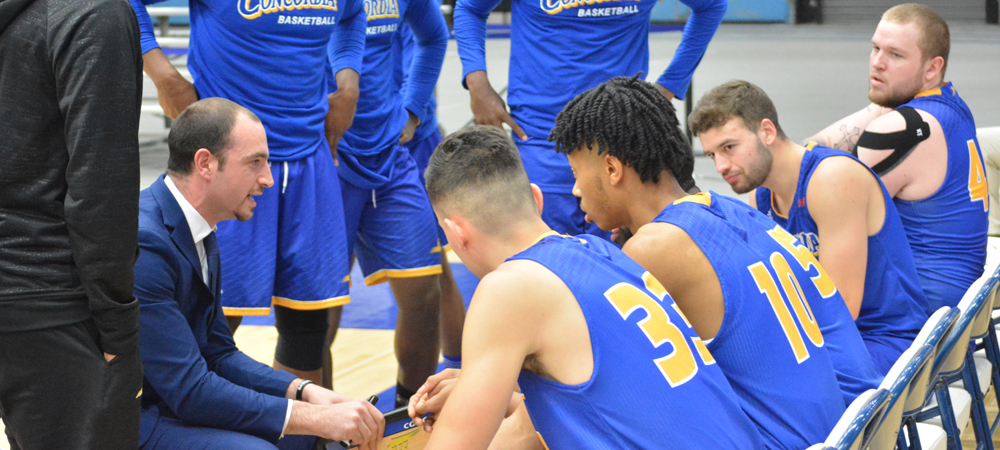 BRONXVILLE, N.Y. – The Concordia College (N.Y.) men's basketball team plays its first contest of 2019 on Wednesday, Jan. 2 at Bloomfield College in a 7:30 p.m. Central Atlantic Collegiate Conference (CACC) matchup.
Match Information: Bloomfield
Date: Wednesday, January 2, 2019 | 7:30 p.m.
Location: Bloomfield, N.J. | Bloomfield College Gym
All-Time Series: Bloomfield leads 27-8
Last Time: Bloomfield, 88-70 (Jan. 30, 2018)
Media Coverage: Live Stats | Live Video
About the Clippers
Concordia (4-7, 1-1 CACC) returns to CACC play after ending their non-conference slate with back-to-back losses, most recently at Southern Conn. State 97-76 on Wednesday, Dec. 19. The Clippers average 76.8 points on a .439 field goal percentage with 37.4 rebounds, 12.8 assists, 5.2 steals and 2.6 blocks.
The Clippers have two student-athletes ranked in the top-10 of the CACC in scoring with senior guard Cedrick McFadden (Washington, D.C.) and senior forward Stephen Milhaven (Port Washington, N.Y.) sitting sixth and eighth with averages 18.0 and 17.5, respectively, while McFadden dishes out the third-most assists per game in the league at 4.9. Milhaven pulls down a team-leading 8.0 rebounds, seventh-best average in the conference, and is joined in the top-10 by sophomore forward Alex White Jr. (Middleton, Conn.) who chips in 7.1 that ties for 10th in the CACC on top of a 1.5 blocks per game rate that places third. Senior guard Michael Demello (White Plains, N.Y.) records a team-high 1.0 steals, while sophomore guard Baron Goodridge (Bronx, N.Y.) rounds out the three Clippers that average double-digit points with 10.4.
About the Bears
Bloomfield (4-7, 2-0 CACC) remains home after falling against the University of New Haven at the Bloomfield College Gym 77-61 on Sunday, Dec. 30. The Bears average 75.7 points on a .428 clip with 38.7 rebounds, 12.6 assists, 8.0 steals and 3.8 blocks.
Kavione Green leads the Bears, and ranks within the top-five of the CACC, with 18.4 points (fourth), 9.8 rebounds (second) and 2.4 steals (third). Kaith Washington and Rich Chapman also average double-digit scoring with averages of 15.9 and 11.2, with Washington boasting the sixth-most assists in the league on a 4.6 per game rate while Matt Lajeunesse ranks second in the conference with 2.0 blocks.
Up Next
The men's basketball team begins a three-game homestand on Saturday, Jan. 5 with a 3 p.m. CACC tilt against Goldey-Beacom College
For the latest on Concordia athletics, find us on Facebook, Twitter and Instagram.