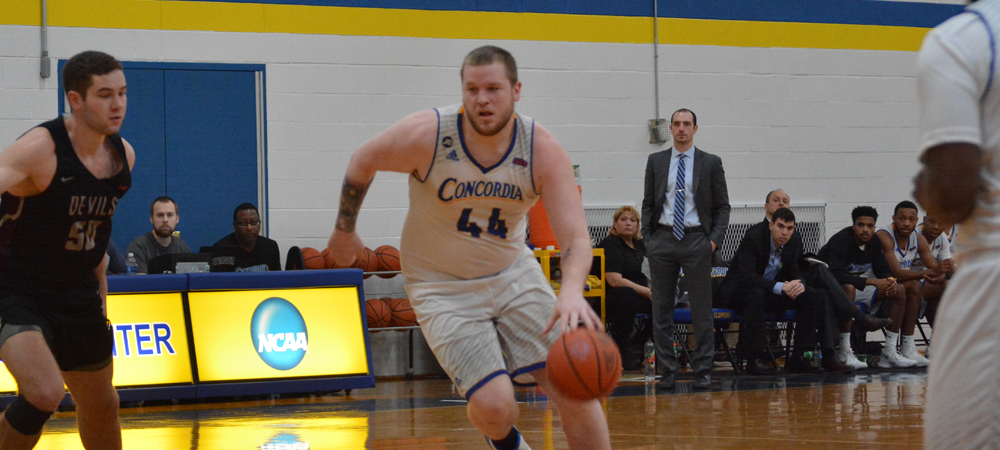 WEST HAVEN, Conn. – Senior forward Stephen Milhaven (Port Washington, N.Y.) logged his second double-double of the young season on Saturday evening and sophomore forward Alex White Jr. (Middletown, Conn.) scored a career-high for the Concordia College (N.Y.) men's basketball team in a 74-70 setback at the University of New Haven.
NOTES
• Concordia falls to 2-3.
• New Haven improves to 4-0.
STANDOUT PERFORMERS
• Milhaven led the offense with a game-high 22 points on .533 shooting (8-15) with 13 rebounds plus a block and steal.
• White Jr. scored 20 points off a .538 clip (7-13) with five rebounds and a pair of blocks.
• Redshirt-senior guard Cedrick McFadden (Washington, D.C.) scored 11 points.
• Senior guard Michael Demello (White Plains, N.Y.) and junior guard Brandon Fields (Washington, D.C.) both tallied two assists.
• For New Haven, Elijah Bailey scored 21 points while Kessly Felizor chipped in 13 points with nine rebounds and Derrick Rowland dished out seven assists.

HOW IT HAPPENED
• After surrendering the opening five points of the contest, Concordia used a pair of Milhaven baskets sandwiching a White Jr. jumper to take an early 6-5 advantage with 15:18 left in the half.
• New Haven reclaimed the advantage off a 7-0 spurt before an 8-2 stretch for the Clippers with White Jr., McFadden and Demello all scoring to even the score at 14-all with 12:11 to go in the half.
• Back-to-back three pointers for the hosts quickly created a six-point separation at 20-14, with Concordia cutting the deficit to two off four-consecutive made free throws from freshman forward Devon Sims (Centerville, Va.) and junior forward Anthony Barnes (Bowie, Md.) before a triple and jumper for New Haven made it 25-18 with 7 minutes remaining in the half.
• Concordia made it a one-possession game again at 29-26 with 4:49 to go in the half only for back-to-back layups for the Chargers extending the gap to 33-26. The Clippers responded with a jumper from Milhaven and dunk from White Jr. to make it 33-30 before a 5-2 stretch for UNH to end the half made it 38-32 at the intermission.
• Concordia began the second half with a 7-2 spurt off two-point baskets from sophomore guard Baron Goodridge (Bronx, N.Y.) and White Jr. plus a triple from McFadden to make it 40-39. New Haven created separation with a triple before a 9-3 run for Concordia via a pair of jumpers from White Jr., a three-point basket for Milhaven and layup by McFadden gave the Clippers a 48-46 advantage with 14:24 to play.
• New Haven reclaimed the lead with a triple on their ensuing possession to make it 49-48, adding a pair of free throws to their lead before a Milhaven triple and pair of free throws by sophomore guard Jared Young (Mount Vernon, N.Y.) made it 53-51 in favor of Concordia with 11:59 remaining.
• UNH used a free throw and layup to take a 54-53 lead, with a Milhaven layup flipping the one-point advantage at 55-54 before an 12-4 stretch for the hosts created a 66-59 score with 5:45 to play.
• Concordia used a 9-4 rally to cut the gap to two at 70-68 with 1:23 remaining, and kept it a one-possession contest at 72-70 but could not get any closer.
INSIDE THE BOX SCORE
• The Clippers converted on 24-62 shots, going 5-24 from three-point territory and 17-20 from the free throw line.
• New Haven finished 27-59 from the field, 9-30 from distance and 11-18 from the free throw line.
• Concordia recorded eight assists versus 10 for the host.
• Concordia held a 41-36 advantage in rebounds.
• Concordia had nine turnovers, resulting in 12 New Haven points. The Chargers had seven turnovers, leading to seven points for Concordia.
• Concordia' bench scored 15 points while New Haven got 16 from its bench.
• Concordia recorded four steals with three blocks while New Haven stole the ball three times with two blocks.

UP NEXT
Concordia concludes its current three-game road swing on Tuesday, Nov. 27 at Molloy in a 7 p.m. non-conference contest.
For the latest on Concordia athletics, find us on Facebook, Twitter and Instagram.