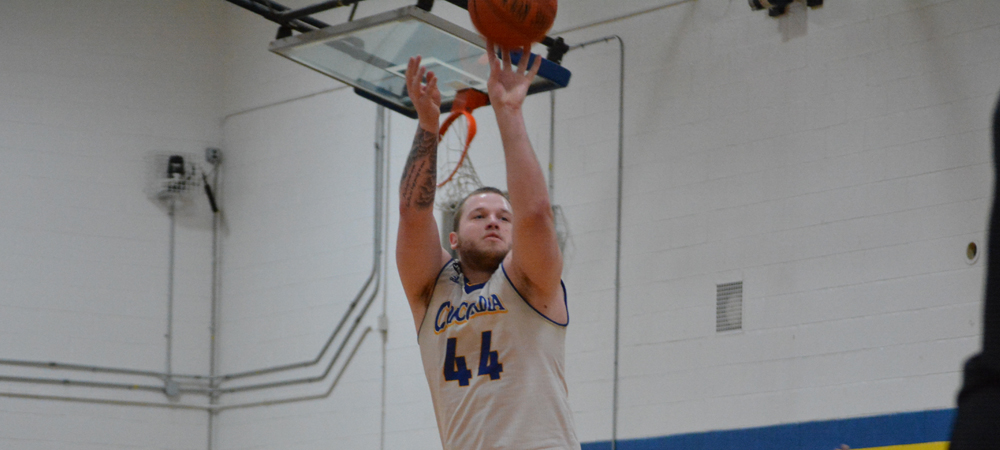 WORCESTER, Mass. – Despite leading for the bulk of Friday evening's season opener, The Concordia College (N.Y.) men's basketball team found itself training St. Michael's College 90-85 with 1:11 remaining in the contest. The Clippers managed to stage the 5-0 rally needed to force overtime, but could not recreate it when faced with another five-point deficit with 1:19 left in overtime as the Purple Knights took a 105-97 victory over the Clippers to begin the Assumption Tip-Off Classic.
NOTES
• Concordia begins the season 0-1.
• St. Michael's improves to 1-0.
STANDOUT PERFORMERS
• Senior forward Stephen Milhaven (Port Washington, N.Y.) matched his career-high with 32 points and four assists while also leading the team with 15 rebounds for a double-double.
• Redshirt junior guard Cedrick McFadden (Washington, D.C.) dished out a team-high seven assists with a team-best two steals on top of 22 points.
• Sophomore guard Baron Goodridge (Bronx, N.Y.) scored a career-high 20 points.
• Sophomore forward Alex White Jr. (Middletown, Conn.) pulled down a career-high eight rebounds to go with one block.
• For St. Michael's, Levi Holmes III and Derek Cheaton both scored 25 points with a block and steal while Cheatom added a team-best eight rebounds.

HOW IT HAPPENED
• Concordia opened the contest with a 9-2 run, using triples from Milhaven, McFadden and Goodridge on the Clippers first three possessions of the season.
• After exchanging three-point plays to keep the separation at seven, 12-5, with Milhaven connecting on an and-one opportunity for Concordia, St. Michael's used a three pointer and jump shot on back-to-back possessions to cut the separation down to two at 12-10. Concordia responded with a 12-2 run to extend the gap to double digits at 24-12 with 13:03 remaining in the half.
• Following a made free throw from junior forward Jesse Breeding (Cortlandt Manor, N.Y.) creating a game-high 14-point lead at 28-14 with 10:33 left in the half, St. Michaels scored eight-straight to make it a six-point contest at 28-22 with 8:01 remaining. Concordia quickly recreated the double-digit advantage via a 7-3 response with White Jr. and junior forward Anthony Barnes (Bowie, Md.) making jump shots and McFadden connecting from beyond the arc to make it 35-25 with 6:40 left.
• With Concordia still holding a double-digit lead at 37-27 and 5:23 remaining in the opening half, the Purple Knights used a 12-5 stretch to get within three at 42-39. The Clippers ended the half with five of the final eight points to hold a 47-42 advantage at halftime.
• St. Michael's used a three-pointer and jump shot on back-to-back plays to start the second half to even the score at 47-all. Milhaven put the Clippers back on top with layup before a triple for the Purple Knights gave them their first lead of the contest at 50-49. Milhaven yet again responded with a pair of free throws, adding a triple to create a two-possession affair at 54-50.
• Goodridge added to the separation with a layup on the Clippers' ensuing possession, with SMC using back-to-back triples sandwiching a Milhaven jumper to make it 58-56 in favor of Concordia before a Goodridge three pointer and Milhaven jump shot extended the separation to seven at 63-56.
• SMC scored back-to-back baskets to make it a three-point contest at 63-60, but a 9-0 retort for Concordia recreated a double-digit separation at 72-60 with 11:22 remaining.
• With Concordia holding a nine-point advantage at 81-72, St. Michael's used an 18-4 rally to flip the advantage in the Purple Knights' favor at 90-85 with 1:11 remaining.
• Milhaven cut the deficit down to two with a triple, adding a layup with 20 second left to even the score at 90-90. SMC could not score on the other end, sending the contest to overtime.
• White Jr. put Concordia ahead in overtime 92-90 off a layup on the Clippers opening possession, but seven-straight points for the Purple Knights created a 97-92 score. Milhaven ended the run with a jumper with 2:03 left in overtime, but back-to-back free throws for SMC recreated the five-point cushion with Concordia unable to get within three again.
INSIDE THE BOX SCORE
• The Clippers converted on 35-74 shots, going 14-31 from three-point territory and 13-19 from the free throw line.
• St. Michael's finished 39-74 from the field, 11-30 from distance and 16-23 from the free throw line.
• Concordia dished out 19 assists versus 20 for SMC
• Concordia committed 15 turnovers, resulting in 19 St. Michael's points. The Purple Knights committed 11 turnovers, leading to 11 points.
• The Clippers held a 39-35 advantage in rebounds.
• Concordia' bench scored 13 points while the Purple Knights got 26 from its bench.
• Concordia recorded three steals with two blocks while SMC stole the ball twice with five blocks.
• The Clippers scored 17 fast-break points versus 25 for St. Michael's.

UP NEXT
The Clippers conclude play in the Assumption Tip-Off Classic on Saturday, Nov. 10 against the host Greyhounds at 4 p.m.
For the latest on Concordia athletics, find us on Facebook, Twitter and Instagram.