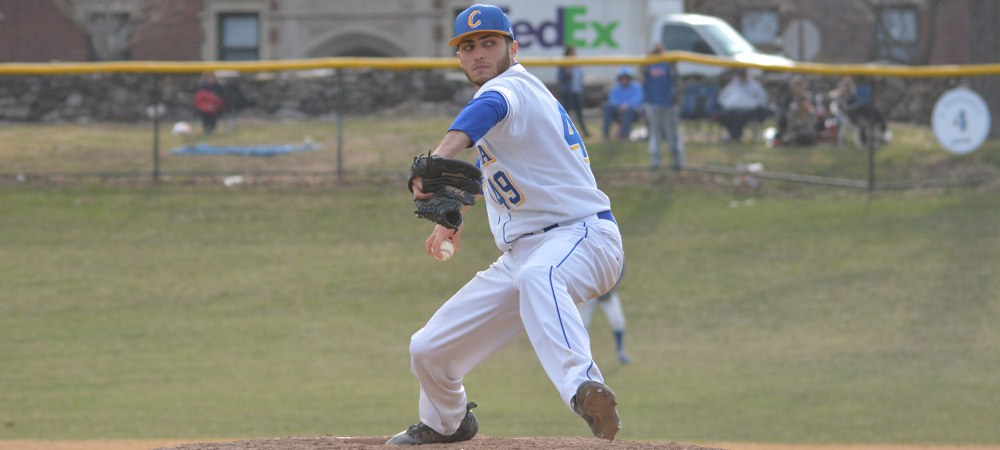 LAKE WORTH, Fla. – All nine members of the Concordia College New York baseball team that stepped into the batter's box on Sunday reached base safely at least once, with the Clippers threatening Stonehill College late behind a nine-run eighth inning but were unable to complete the comeback in a 15-10 setback.
NOTES
• Concordia falls to 1-5.
• Stonehill improves to 4-3.
STANDOUT PERFORMERS
• Senior first baseman Joseph Impeduglia (Staten Island, N.Y.) went 3-4 with three runs, two RBI and one walk.
• Senior catcher Denny DeLos Santos (Queens, N.Y.) went 2-4 with one RBI, one run and one walk.
• Junior shortstop Blake Burgan (Holbrook, N.Y.) went 1-5 with two RBI and one run.
• Sophomore right fielder Matt Rinaldi (Eastchester, N.Y.) went 1-3 with two runs and two walks.
• Senior RHP Enrico Locascio (Staten Island, N.Y.) held Stonehill to one hit over the opening 5.0 innings.
• For Stonehill, Matt Dolan went 3-6 with two runs while Mike Sanholm went 2-6 with five RBI.
HOW IT HAPPENED
• Leading off the bottom of the fourth with a double, Impeduglia scored the opening run of the contest on a double play to make it 1-0.
• Stonehill knotted the contest in the top of the sixth off a Clippers' error, with the Skyhawks using a sacrifice fly and fielders choice to plate two more runs and pull ahead 3-1.
• Loading the bases with no outs in the top of the seventh, Stonehill took advantage of a Concordia error to score a run before a bases-loaded walk and RBI groundout platted two more while another Clippers' error sent two Skyhawks home to create an 8-1 score.
• Back-to-back doubles with two outs in the top of the eighth scored four runs for Stonehill, while a single following a walk sent two more home to boast a 14-1 advantage.
• Concordia loaded the bases with no outs in the bottom of the eighth, with freshman outfielder Leo Alvarez (Oceanside, N.Y.) drawing a base on balls to score Rinaldi before back-to-back one-out singles from Santos and Burgan platted Impeduglia, sophomore third baseman AJ Gonzalez (Carmel, N.Y.) and Alvarez. Singles from freshman infielder Austin Vlahakis (Oceanside, N.Y.) and Impeduglia scored Santos, Burgan and Vlahakis, with a Skyhawks error sending Rinaldi home to make it 14-10.
• Stonehill added an insurance run to its lead in the top of the ninth off a one-out single.
INSIDE THE BOX SCORE
• Concordia recorded 11 hits while Stonehill tallied 12.
• The Clippers left nine runners on base while Stonehill stranded 16.
• Concordia committed four errors, allowing seven runs to score. The Skyhawks had one error resulting in two runs.
UP NEXT
The baseball team takes on Florida National on Monday, Mar. 2 with first pitch set for 6:30 p.m.
For the latest on Concordia athletics, find us on Facebook, Twitter and Instagram.