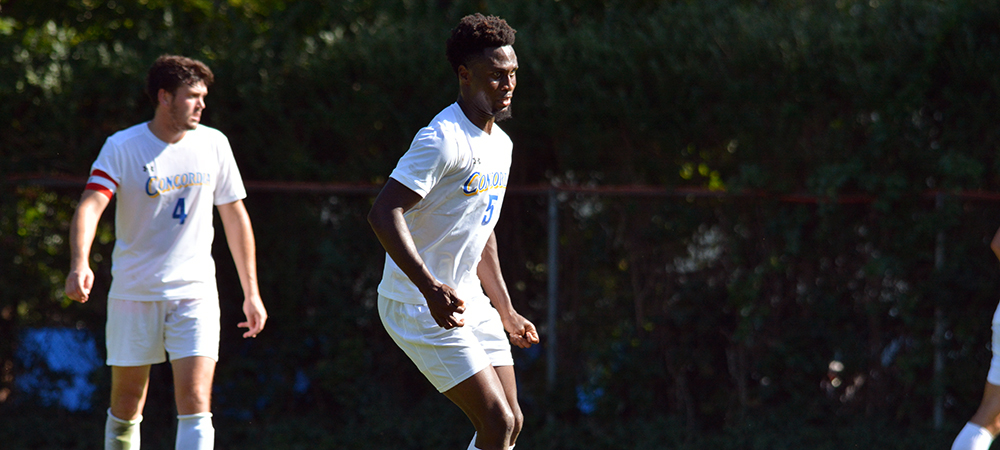 FLUSHING, N.Y. - The Concordia College men's soccer team snapped a four game losing streak on Tuesday afternoon after the Clippers defeated Queens (N.Y.) on the road in non-conference action, 3-1.
Concordia would score their first goal of the game in the 41st minute as sophomore Freddy Nava (Yonkers, N.Y.) provided the assist on freshman Dennis Limani's (Norderstedt, Germany) goal to give the Clippers the early advantage. Despite being out-shot 11-2 in the first half, Concordia would go into halftime with a 1-0 lead.
Limani would score his second goal of the game in the 52nd minute as he took a shot from about 25 yards out to record his team-leading seventh goal of the season for the Clippers. Freshman Jun Cho (Johns Creek, Ga.) added an insurance goal for Concordia as Nava and Limani provide assists on Cho's first collegiate goal in the 56th minute. The Knights managed to score a late goal in the 75th minute, but the Clippers would hold on for the 3-1 victory.
Sophomore goalkeeper Jaime Gonzalez (Madrid, Spain) recorded 11 saves for Concordia as the Clippers were out-shot 22-8 overall in the game. Queens would also hold an 8-0 advantage in corner kick opportunities.
Concordia (3-8-0, 1-7-0 CACC) will return home to host Central Atlantic Collegiate Conference (CACC) foe Chestnut Hill College on Saturday afternoon. Kickoff at Holtdorf Soccer Field is set for 2 p.m. as fans unable to attend can follow the action by accessing the live stats and video links under the men's soccer schedule page on ConcordiaClippers.com.